Zimbabwe's Robert Mugabe the Style Guru, Launches New Fashion Range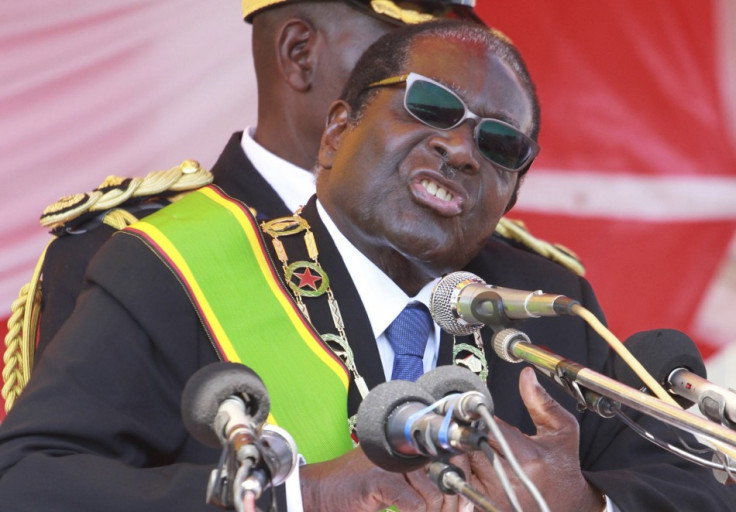 Ageing Zimbabwean tyrant Robert Mugabe is apparently still a trendy leader after the launch of his fashion label in Harare is proving to be a hit with young voters.
His formal wear clothing line which include T-shits, jackets and caps is designed for both men and women and has the leader's signature emblazoned on every items.
The Zimbabwe Broadcast Corporation, controlled by Mugabe's party, Zanu PF said demand for the clothes was high, proving the line is set to be a hit among Zimbabweans.
The network reported: "A new fashion stable, House of Gushungo, whose label is President Robert Mugabe's signature, has hit the capital by storm,"
"The clothing stable is set to redefine the country's fashion industry which is mostly dominated by foreign clothing labels.
"The contemporary line appeals to today's modern men and women, offering style, comfort and a splash of attitude."
The new venture has been described as an attempt by the President to reach out to young voters ahead of elections set to take place in 2012.
The leader lost the first round of the latest presidential elections in 2008 to the Movement for Democratic Change opposition leader Morgan Tsvangirai.
However violence soon erupted and the later withdrew from the vote, leaving Mugabe to conserve his position as a head of state.
Following an international outcry and sanctions on the ruling party, the two politicians agreed on a power-sharing deal that saw Tsvangirai become prime minister.
Before turning to fashion Mugabe had also appeared in hip-hop videos.
In November he featured in the video of a song that combined one of his past speeches with up-beat music.
The president can be heard saying in the Shona language "You run off to England, you get there and you get a job cleaning old white folks' behinds. Who are you running to?"
In a second video clip he is also shown picking up a mobile phone while sitting in his office and asking a young singer "Zvirisei-sei?", which translates as "Wassup?"
© Copyright IBTimes 2023. All rights reserved.