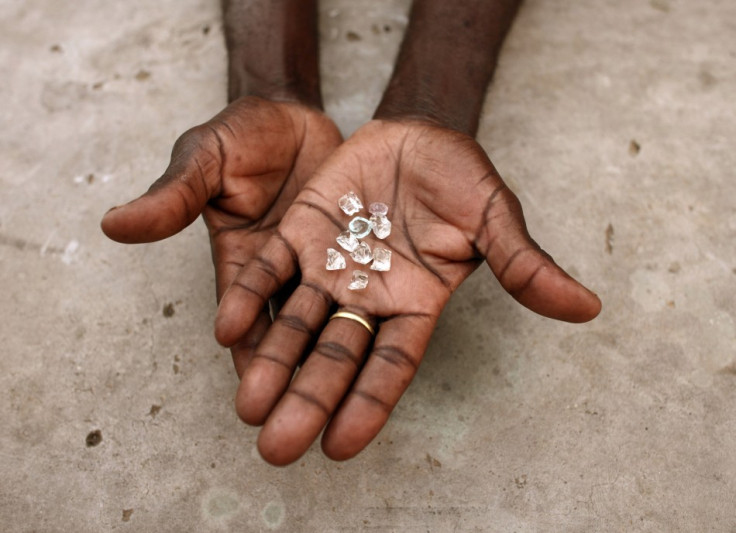 Up to 600 workers at the Chinese diamond mining company Anjin Investments have gone on strike to demand higher wages and improved working conditions.
Anjin is one of five firms in partnership with the state-owned Zimbabwe Mining Development Corporation (ZMDC) to mine the Marange fields in eastern Zimbabwe.
The strike is affecting all departments in the company, where employees have said they will only resume their duties if they are granted a "reasonable" rise in wages.
Some of the workers only earn about £115 per month, barely enough to keep themselves and their families at a subsistence level, and are asking for their monthly wages to be increased to £385.
A representative of the workers told members of the press in Zimbabwe that negotiations have been hampered by the company management's dismissive attitude towards its workers and they are at a standoff.
Workers' committee chairman John Mupfurutsa said a meeting with management took place on 1 November, following an earlier sit-in. An agreement was signed at the meeting, according to which the workers were to receive an increase in their salaries last month.
However, management failed to keep up its end of the bargain. Mr Mupfurutsa said: "We were surprised to receive the usual wage on the agreed date, so it is clear they are not sincere."
Lindiwe Ngwenya, the company's human resources manager, insisted that the company is in the process of finalising the details of a new remuneration package.
"The workers need to know that we were paying them using the investors' money and their requests for salary increases are still being negotiated," she said.
"We were recently given certification and we are expecting to start selling our diamonds next week and, for the workers, reason should just prevail."
Japhet Moyo, secretary-general of the Zimbabwe Congress of Trade Unions, said it is disheartening that Anjin is underpaying workers despite its substantial profits.
"To make matters worse," he said, "the workers are not allowed by the company to join our union, which is concerned about their plight."
The strike came as the diamond industry watchdog Kimberley Process (KP) authorised exports by two companies operating in Zimbabwe's Marange diamond fields, including Anjin Investments.
The company is expected to sell about two million diamonds from the Marange fields as a result of the move.
The development has angered Global Witness, a campaign group which helped set up KP. This week the organisation withdrew from the scheme, saying that members of Zimbabwe's ruling party may use revenue from the fields to fund the intimidation of voters ahead of elections, which are due to be held next year.
It also said the KP was a failure. Nine years after its launch, most customers remain unsure of the provenance of diamonds which have been certified by KP, the group claimed.
"The Kimberley Process's refusal to evolve and address the clear links between diamonds, violence and tyranny has rendered it increasingly outdated," the group said.
Despite intensive efforts over a number of years by a coalition of NGOs, the scheme's main flaws and loopholes have not been fixed and most of the governments that run the scheme continue to show no interest in reform.
"Nearly nine years after the Kimberley Process was launched, the sad truth is that most consumers still cannot be sure where their diamonds come from, nor whether they are financing armed violence or abusive regimes," Charmian Gooch, a founding director of Global Witness, said in a statement.
"The scheme has failed three tests," she said. "It failed to deal with the trade in conflict diamonds from Côte d'Ivoire, was unwilling to take serious action in the face of blatant breaches of the rules over a number of years by Venezuela and has proved unwilling to stop diamonds fuelling corruption and violence in Zimbabwe. It has become an accomplice to diamond laundering, whereby dirty diamonds are mixed in with clean gems."