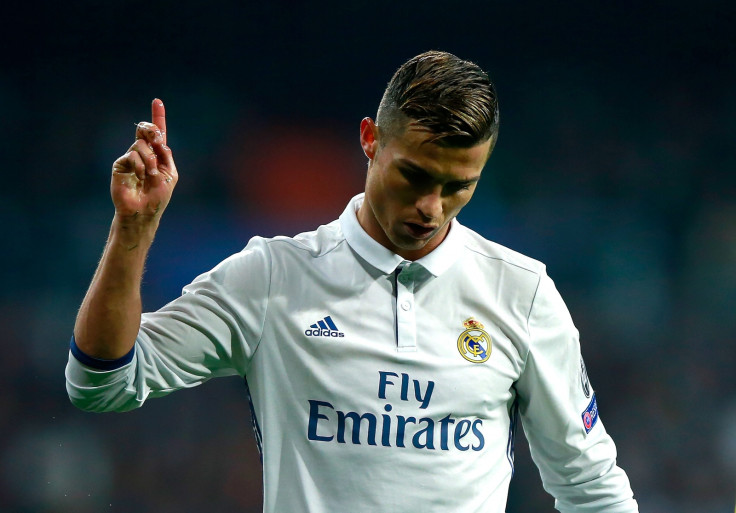 Cristiano Ronaldo is ready to return to action for Real Madrid's home clash with Granada on Saturday (7 January), having been left out of the squad for the midweek Copa Del Rey 3-0 win over Sevilla. Manager Zinedine Zidane has once again defended his decision after revealing that he and the Ballon d'Or have agreed that the 31-year-old needs to rest in some games in order to arrive at the final stretch of the campaign with fresh legs.
Earlier this season Ronaldo launched into a foul-mouthed rant against his boss after being replaced during a disappointing draw against Las Palmas. The Portugal international has always insisted on playing the full 90 minutes, and previous Real Madrid managers were loathe to rest him even in minor games.
But former Galactico Zidane looks to have finally convinced Ronaldo that rotation is the key to match fitness in the crucial months when Los Blancos can secure silverware.
"We spoke and the one thing you have to bear in mind is that Cristiano is a truly intelligent player. My idea is to have Cristiano fit throughout the season. When you play 20 games in 70 days, obviously from time to time you have to rest. That is how we both see it. He always wants to play but we discuss things. We both want to win absolutely everything put in front of us," the Real Madrid boss revealed, while offering some guidance about where CR7 will play in future.
"Cristiano can play anywhere. Recently he has been playing as a number nine, but he can play where he has played his entire life. We keep changing things but there is nothing set in stone. It is something temporary as he can play anywhere. It is difficult to get him scoring more goals than he already is."
Zidane gave a run out to a number of fringe players during the Copa del Rey encounter with Sevilla, as James Rodriguez scored a brace to help Real Madrid take a huge step towards the last eight of the competition. Karim Benzema and Isco also started on the bench against Sevilla but could return to the starting line-up in the league after being included in Zidane's 19-man squad alongside the rest of their available teammates.
Sergio Ramos, Pepe, Lucas Vazquez, Mateo Kovacic and long-term absentee Gareth Bale missed the cup clash and will also remain on the sidelines when Los Blancos host Granada on Saturday, as the quintet continue their recoveries from respective injuries.
Real Madrid extended their unbeaten run to 38 games with Wednesday's victory over Sevilla and Zidane has backed his side to continue the good run against Granada, who are second bottom of La Liga having won just one match from the first 16 games.
"It is another game and we have to get back into LaLiga and keep doing what we are doing well. We are facing a team that likes to make life difficult for you and we will have to be ready to put in a good shift. We don't have much recovery time or time to train as we are playing every three days, but that is the way things are, we have to do things well and play a good game," the Real Madrid boss added.
"[The unbeaten run] is not the most important aspect. I try not to focus on these sorts of things and keep calm. What I focus on is my day-to-day work and preparations for our games. We can keep on breaking records but that isn't the most important thing, I'm more concerned with improving each day. I have the best players and the good fortune to be able to train them. Each coach has to focus on his work but I think I'm lucky to have such quality players at my disposal. It helps so much having them here and gives us more options to win. Clearly talent alone isn't enough, you also have to work hard. If you combine those two, you can succeed."