Cristiano Ronaldo rant at Zidane after being substituted revealed: 'I do everything for f*ck's sake'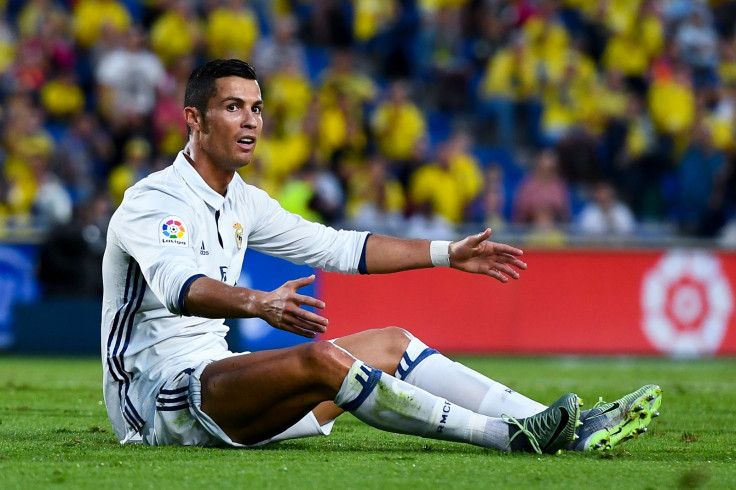 KEY POINTS
Former Manchester United star left pitch furious with Zinedine Zidane's decision.
Sergio Araujo cancelled out strikes from Marco Asensio and Karim Benzema to get a point for the locals.
Cristiano Ronaldo has been filmed launching into a foul-mouthed rant after being replaced during Real Madrid's 2-2 draw against Las Palmas on Saturday (24 September). The Portugal international was seemingly furious with Zinedine Zidane's decision.
The 31-year-old forward has endured a slow start to the campaign, missing the opening matches duo to the the knee injury he sustained in Portugal's victory over France in the Euro 2016 final. The former Manchester United star has since scored two goals in four appearance but has looked far from his best.
Zidane decided to hook the player in the 72nd minute against Las Palmas, only minutes after CR7 helped Karim Benzema put Los Blancos 2-1 ahead.
Even though Sergio Araujo struck late on to get a point for the home side, Zidane defended his decision to rest Ronaldo as he needed him fresh for the crunch Champions League Group F match against Borussia Dortmund on Tuesday night.
"We've got a game on Tuesday and I thought that it was the right time to bring him off. That's all there is to it," the Frenchman explained in the press conference after the game. "He always wants to play and be out there on the pitch. But I've also got to think about the player and he needed to rest and think about Tuesday."
A survey by AS revealed that more than 80% of fans backed Zidane 's decision, as Ronaldo was having a game for forget.
However, it looks like Ronaldo had a different opinion, storming off the pitch while avoiding eye contact with his manager.
Furthermore, now Spanish TV Cuatro's lip readers has revealed his foul-mouthed rant in full as he muttered to Real Madrid representative García Coll on the bench.
After shaking Zidane's hand as he trotted off the pitch, although noticeably without attempting to make any eye contact with the coach, the angry Ronaldo walked past Coll and cursed.
"Why me? I do everything to make it 2-1...for f**k's sake," Ronaldo while leaving the pitch, while on the bench he added: "F**k" [in Portuguese], Mother f****r (in Spanish) There's 20 minutes left, 20 minutes!"
© Copyright IBTimes 2023. All rights reserved.