Zlatan Ibrahimovic and Paul Pogba 'are being dragged down by their Manchester United teammates'
Ibrahimovic has not scored in his last five Premier League games.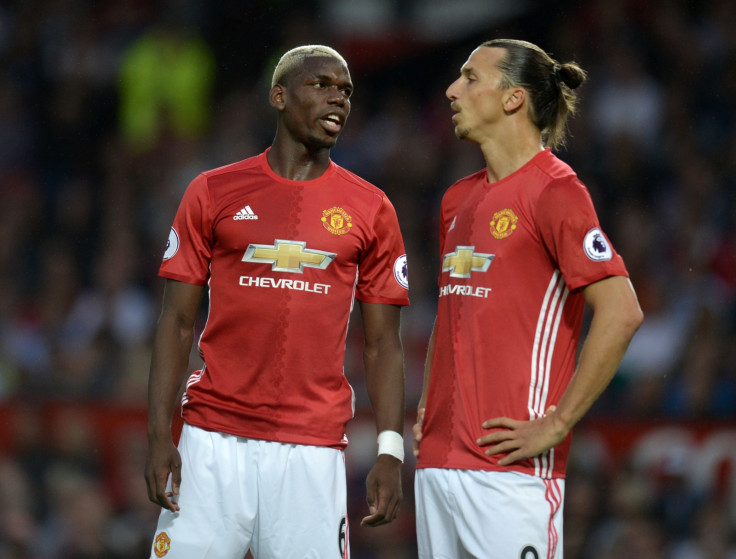 Manchester United's stellar summer signings Zlatan Ibrahimovic and Paul Pogba are being dragged down by their teammates at Old Trafford, according to Danny Mills. The player-turned-pundit has claimed that appearing in an average United side has led Pogba and Ibrahimovic to play below their usual standard.
The sought-after duo both joined United during the summer transfer window, prompting suggestions the Reds could mount a serious challenge for the Premier League title. But United are already six points behind Pep Guardiola's table-topping Manchester City side after being defeated at Chelsea – and Mills has been unimpressed with the new-look United team this season.
"When you put a great player into an average side, his level goes down because those players aren't as good as he's used to," Mills told BBC Radio 5 Live of United's star pair. "They can't do the things that he does and I think maybe Pogba and Ibrahimovic are suffering a little bit from that at the moment."
Mills claimed that inadequacies of Pogba and Ibrahimovic's United teammates has caused them to fall short of fans' expectations during their Old Trafford careers so far. "The other players around them aren't supporting them, they're not quite up to that level and I think they're possibly dragging the other players down," he said.
Ibrahimovic, 35, made an impressive start to life at United, scoring the winning goal in the Community Shield final, but has not found the net in his last five Premier League games. Pogba, meanwhile, has scored three times since his world-record move to United during the summer – but his performances have been widely criticised by fans and pundits.
Indeed, United boss Jose Mourinho recently warned his star duo that they are not considered to be untouchable at Old Trafford, in contrast to what he said of key players during his first spell at Chelsea.
"That was 11 years ago [when Mourinho said some Chelsea players were untouchable], different Premier League, different situation," the United boss explained. "[Chelsea were] the best team by far, that's a different story. Nobody is untouchable now. Untouchable in our team I think has to be the spirit, the commitment, the pride, the commitment to the club, the respect to the fans. That has to be untouchable, but not players."
© Copyright IBTimes 2023. All rights reserved.