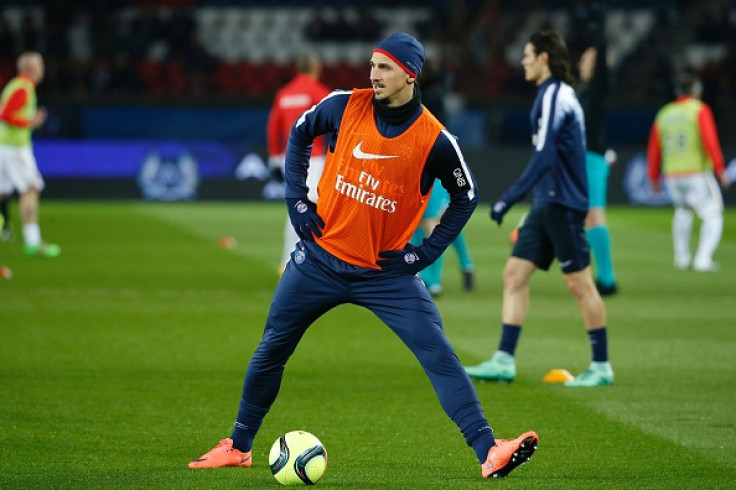 Zlatan Ibrahimovic is set to be the most sought after footballer in the summer when his contract with Paris Saint-Germain expires at the end of the current campaign. The Swedish striker's agent Mino Raiola has confirmed interest from all top Premier League clubs except Manchester City, who will be managed by the striker's former boss Pep Guardiola next season.
Manchester United, Arsenal, Chelsea and even West Ham United have been linked with a move for the free-scoring forward, who has already admitted that he will look for a new challenge next season. Ibrahimovic refused to divulge details as to his preference, but indicated that the club he signs for will have to want him as much as he wants to join the club.
Despite being available on a free transfer, it will require interested clubs to fork out a large sum in terms of wages to lure the Sweden international, and according to the Daily Mail, the striker is demanding a hefty £600,000-a-week in order to move to the Premier League next season. The exorbitant fees are likely to put off a number of teams, but his impact on the team and his ability to score goals could tempt the cash-rich clubs to break the Premier League wage record and sign the Ligue 1 top scorer.
Raiola believes that the 34-year-old striker can play until he is almost 40 due to his high level of fitness. Ibrahimovic's agent, despite the striker stating otherwise, has kept the door open for him to remain at the Parc des Princes beyond this season, while also admitting that there is interest from the top Serie A cubs.
"Outside of Manchester City, who will be managed by Pep Guardiola, all the big clubs have knocked on the door," Raiola said, as quoted by Sky Sports.
"With the physique and mindset he has I told him he can play another five years," he said of the 34-year-old. He has incredible energy that only improves with time. When he has time he even goes out hunting. He isn't human in a sense that people can't even imagine what he is capable of."
"They are doing all that they can to sign him to an extension. Paris remains an option," the former Inter Milan and Barcelona forward's agent added.