Watford manager Gianfranco Zola has dismissed suggestions he could succeed Rafael Benitez as Chelsea manager this summer.
Former caretaker boss Ray Wilkins believes Zola is among a four-man shortlist to replace the Spaniard, who confirmed last week his interim spell as first-team coach will end in the summer.
Zola is current manager at a Watford side who are two points adrift of the automatic promotion places in The Championship, and with The Hornets in contention to reach the Premier League; the Italian is fully focused on the task at hand.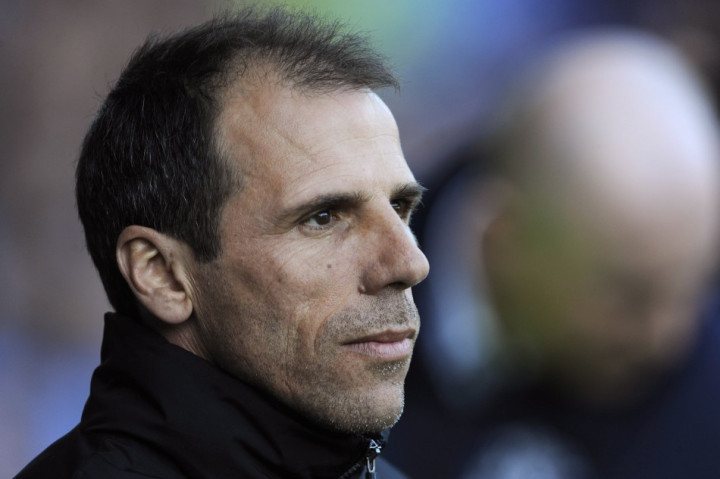 "That's not for me to answer," Zola told talkSPORT, when asked about the Chelsea job.
"I'm really enjoying what I'm doing over here.
"What's going to happen at the end of the season I really don't know and to be honest I'm more concerned about what is going to happen between now and the end of the season which is going to make a big difference for me.
"My focus and my attention is on Watford.
"There is so much to play for, for Chelsea," Zola added. "Rather than speculating what is going to happen for the next year, everyone should focus on things that really matter," said the Blues legend.
"This is a really important part of the season. They need to get into the Champions League, which is such an important achievement for the club."
The 46 year old was voted Chelsea's greatest ever player in 2003 and is regarded as a legend among supporters at Stamford Bridge.
After the sacking of fan favourite Roberto di Matteo last November, Benitez has endured a torrid time as manager, with the club having been knocked out of three cup competitions, while their Champions League qualification hopes are also in jeopardy.
Benitez last week revealed his anger at those Chelsea fans who have continued to protest against him, as well as the club's hierarchy, who labelled him as 'interim' boss upon his appointment, a title the ex-Liverpool manager claims has worked to undermine his authority.
Fears were rife that Benitez's public outburst, which followed the 2-0 FA Cup win over Middlesbrough, would spark his departure from The Blues, but chief executive Ron Gourlay says he will remain until the end of the season.
"It was the club's plan to have Benitez as interim manager with the aim of securing a Champions League position at the end of the season," Gourlay said. "We'll assess the situation then.
"We can still win the Europa League and FA Cup, but make no mistake, our priority lies with a Champions League spot."