A 13-year-old Israeli girl has died from her wounds in hospital after she was stabbed repeatedly in her home in the West Bank settlement of Kiryat Arba.
Another man was seriously injured in the incident, the Times of Israel reported, as a civilian guard was mistakenly shot as he rushed to the scene.
Hallel Yaffe Ariel was treated at Shaare Zedek Medical Center in Jerusalem for repeated stabbings to her upper body. She was taken to the medical facility unconscious, not breathing and in critical condition.
The Israel Defense Forces said in a statement that Ariel's attacker was shot and killed. His identity has not been revealed, but the military did describe him as a "terrorist", which often indicates a Palestinian assailant.
A paramedic who attended the teenager at the scene said her condition was serious when she was loaded on to the ambulance.
"The girl was unconscious, without a pulse and not breathing. She had a number of penetrating wounds on her upper body. We loaded her on to the ambulance while performing CPR. Her condition was very serious," said Dvorak Aviyad, a medic at David Adom, Israel's medical emergency service.
"The second victim we loaded into the ambulance and gave him life-saving first aid. He was fully conscious, speaking with us throughout the ride," he added.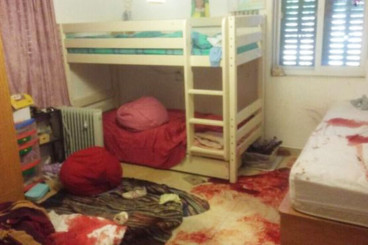 The Ariel family home was reportedly on the edge of Kiryat Arba, near it's perimeter fence. The settlement lies right next to Hebron in the southern West Bank. Residents were briefly on lockdown in the aftermath of the attack and all Arab workers in the area were removed.
On 8 June, Four people were killed and 16 others injured when two gunmen, both thought to be Palestinians according to AP, opened fire at a packed café in Tel Aviv's Sarona Market.
In the eight months preceding the attacks, Palestinians carried out dozens of attacks that killed 32 Israelis and two Americans.
On 24 June, a Palestinian woman crashed her car into an Israeli vehicle in a likely car-ramming attack outside the settlement in Kiryat Arba.