Four people have been killed and five others injured, after gunmen opened fire in a Tel Aviv market in what police have said was a terror attack that took place on Wednesday (8 June). The shootings took place around the Sarona complex, an area close to the Israeli military's main headquarters.
According to initial reports, one gunman fired inside the Sarona complex itself while the other fired his weapon in an adjacent street. Officials said the two gunmen - who were Palestinian and hailed from the Hebron area - were shot and disarmed by security forces.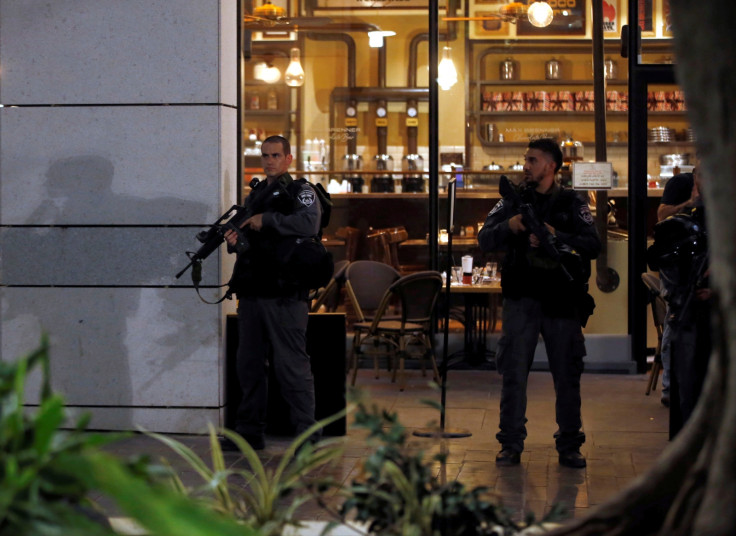 Tel Aviv district police commander, Moshe Edri, said the incident was a "harsh terror attack" and that both of the attackers have been detained with one being taken to a hospital for treatment.
The attack took place at around 21:30 (18:30 GMT) with video footage showing crowds running and at one restaurant, upturning tables and chairs. However, there have been conflicting accounts of the men responsible, with one report saying they were dressed as Orthodox Jews, according to the Haaretz newspaper, while other witnesses claim the assailants were dressed in white shirts and black trousers.
It was not clear if the attack was directed by Hamas, but Ismail Haniyyeh, the group's deputy leader, praised the attackers, tweeting: "Glory to the heroes, mercy on their souls".
Yechiel Miller, a volunteer medic with United Hatzalah, said: "When I arrived at the scene I saw a woman who was unconscious and not breathing and in critical condition. We began resuscitation efforts. We also treated numerous other individuals who suffered gunshot wounds and wounds from shrapnel," The Guardian reported.
Meital Sassi told Channel 10 TV that she was celebrating her son's birthday, when she heard shots and "immediately understood it was a terror attack."
There has been a spike in the number of Palestinian attacks on Israelis since 2015, although the number of incidents has dropped in recent months. Israeli Ambassador to the United Nations, Danny Danon, called on the Security Council to condemn the attack.
In a statement he said: "Today's heinous attack sadly proves that when the international community refuses to condemn terror against Israelis, the next attack is only a matter of time. Terror in Tel Aviv must be treated the same as terror in Paris or Istanbul."