The 1975 are a breath of fresh air on the landscape of manufactured pop which explains why they are able to headline an impressive five nights at London's Brixton Academy. The Manchester band's tour perfectly coincides with the biggest landmark of their career to date having just knocked Adele off the top spot in the UK with their second album I Like It When You Sleep, For You Are So Beautiful Yet So Unaware Of It, and earning their first number one on the US Billboard 200 chart.
So are The 1975 worth all the hype? IBTimes UK attended the third night of their stint at the Brixton Academy to find out.
Our verdict
The incredibly long title of The 1975\'s chart-topping second album I Like It When You Sleep, For You Are So Beautiful Yet So Unaware Of It initially comes across as somewhat pretentious – as though the band are trying too hard to be cool and different from the swarm of the many other indie bands on the scene. However, when members Matt Healy, Adam Hann, George Daniel and Ross MacDonald arrive on stage, there are no airs or graces.
In fact, when frontman Healy swaggers on to the stage loosely swigging from a glass of wine, he comes across as merely a regular guy doing what he loves. Rousing the hysterical young audience with their opener Love Me, Healy immediately commands the stage like a true frontman does, mesmerising his adoring fans with quirky dance moves Mick Jagger would be proud of while proving his worth as a multifaceted artist playing the electric guitar on Heart Out.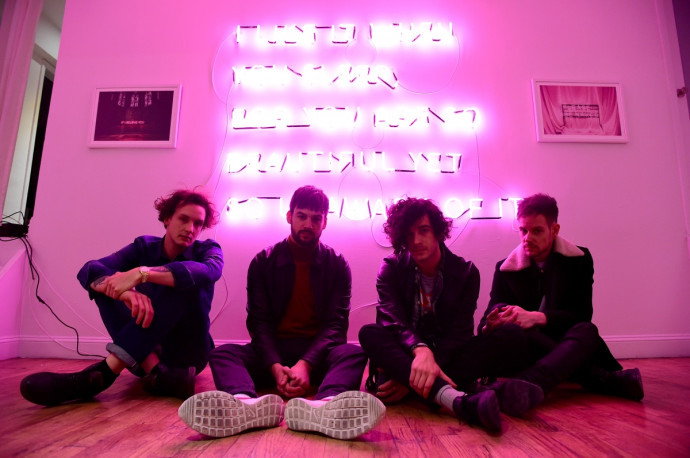 The band are still celebrating their UK and US chart feat with I Like It When You Sleep and despite their new profile across the pond, they remain humble and ever-grateful to their supportive fans, evident when Healy introduces themselves to the audience as though they are a barely-heard new act who aren\'t playing five sold-out shows at a notable London venue.
The pace of the show carries on seamlessly as The 1975 weave in between their catalogue of two albums, performing tracks from their acclaimed 2013 eponymously-titled debut and their latest 17-track collection. The mood ranges from the ethereal with A Change Of Heart and Robbers to mellow 1980s pop on Somebody Else.
Although The 1975 undoubtedly possess a strong body of work, the set begins to falter ever so slightly courtesy of too many sleeper-hits positioned consecutively. Still, Healy\'s unpredictable stage presence is enough to carry the show along nicely – at times he stumbles off stage, presumably to top up his wine glass while at other points, his hair takes on a life of its own becoming a centrepiece of the show flopping about as Healy bounces around like a true rockstar.
Listen to The 1975\'s Chocolate:
It is no wonder The 1975 have managed to extend their fan base not only outside of Manchester and the UK, but as far as Stateside. With his Harry Styles-esque curls – although not quite as polished – and rocker edge, Healy possesses the right amount of likeability to appeal to fans of both pop, rock and everything in between.
In the last half hour, The 1975 amp up the pace, save for a soulful interlude with new gospel track If I Believe You, reeling out some of their most treasured hits such as Chocolate before closing their encore with the ever-infectious Girls. The 1975 have enough dimensions and, most importantly, quality songs that stray from the norm to maintain what is set to be a very fruitful career. The unpretentious vibe of Brixton Academy perfectly matches their non-celebrity persona but expect to see them performing arenas in no time.