200-million-year-old Jurassic-era fossil of biggest ever 'sea dragon' accidentally discovered
The sea dragon, which is believed to have pre-dated dinosaurs, was pregnant at the time of its death.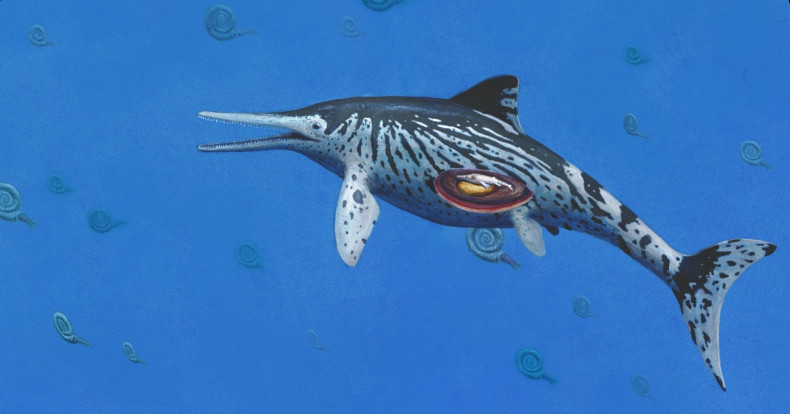 The fossil of a 200-million-year-old sea creature was accidentally discovered in a museum after being mislabelled. The Jurassic-era fossil is of the biggest "sea dragon" ever found and represents the Ichthyosaurus genus. The existence of the sea creature is believed to have predated dinosaurs. Paleontologists who discovered the sea creature's fossil found that it was pregnant at the time of its death.
The fossil was originally excavated from Somerset, where it was first found during the mid-1990s. However, the fossil remained unstudied until it eventually found its way to the Lower Saxony State Museum in Hannover, Germany.
However, it was paleontologist Sven Sachs from Germany's Bielefeld Natural History Museum who uncovered the true identity of the fossil. According to a National Geographic report, Sachs was originally at the museum to study a fossil that shares similarities with the mythical Loch Ness monster.
Sachs and University of Manchester paleontologist Dean Lomax examined the fossil in early 2017 and determined that it was an example of the Ichthyosaurus somersetensis, a new species that Lomax and another colleague, professor Judy Massare, had previously identified.
"It amazes me that specimens such as this [the biggest] can still be 'rediscovered' in museum collections. You don't necessarily have to go out in the field to make a new discovery. This specimen provides new insights into the size range of the species, but also records only the third example of an Ichthyosaurusknown with an embryo. That's special," Lomax said in a statement.
Paleontologists say the sea creature's fossil is of an adult female, approximately 3m to 3.5m long and that it is from the early Jurassic period. "I noticed that that the specimen was pretty big," Sachs told Motherboard. "I knew that the genus Ichthyosaurus usually is between one and two metres long, so a three-meter long specimen was remarkable."
"It is often important to examine fossils with a very critical eye. Sometimes, as in this instance, specimens aren't exactly what they appear to be. However, it was not 'put together' to represent a fake, but simply for a better display specimen. But, if 'fake' portions remain undetected then scientists can fall foul to this, which results in false information presented in the published record," Sachs said. "Specimens like this provide paleontologists with important information about when these animals lived. Many examples of Ichthyosaurus are from historical collections and most do not have good geographical or geological records, but this specimen has it all. It may help to date other ichthyosaur fossils that currently have no information."
The discovery of the Ichthyosaurus fossil is important, especially since it was found with an embryo. "Although there are certain kinds of ichthyosaurs which are known to have a lot of embryos, there are certain genera that hardly have any embryos preserved, and Ichthyosaurus is one of them," Sachs told Motherboard.
The new study has been published in Acta Paleontological Polonic scientific journal.