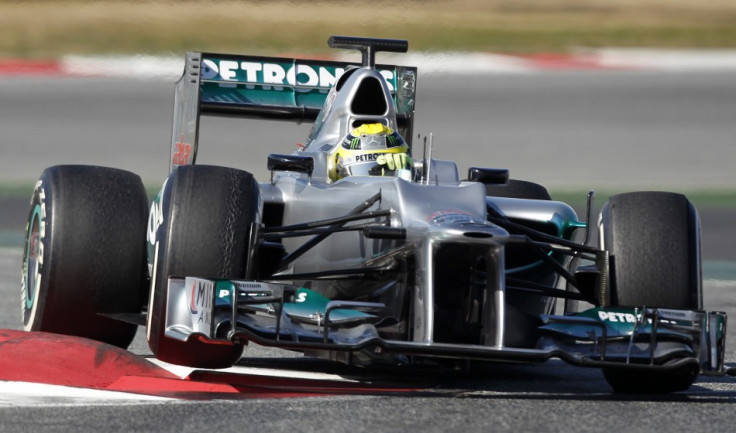 Mercedes' Nico Rosberg took top spot in the final practice session, ahead of Saturday's qualifying for the 2012 Formula 1 Petronas Malyasia Grand Prix. The German lapped nearly half-a-second faster than compatriot and defending World Champion Sebastian Vettel, in a session that was declared wet.
Vette's team mate, Mark Webber, was third, with the newly-returned and hugely impressive Kimi Raikkonen fourth for Lotus.
The first two practice sessions, held on Friday, were both topped by McLaren's Lewis Hamilton, who struggled to make similar progress in the rain. He could only manage ninth. The Ferrari's of Alonso and Massa continued to struggle, with the former's 13th position the team's best of the session.
Top Ten Times :
1. Nico Rosberg, Mercedes - 1:36.877 (16 laps)
2. Sebastian Vettel, Red Bull Racing-Renault 1:37.320 (15 laps)
3. Mark Webber, Red Bull Racing-Renault 1:37.338 (12 laps)
4. Kimi Räikkönen, Lotus-Renault 1:37.356 (13 laps)
5. Romain Grosjean, Lotus-Renault 1:37.382 (13 laps)
6. Jenson Button, McLaren-Mercedes 1:37.404 (12 laps)
7. Pastor Maldonado, Williams-Renault 1:37.455 (13 laps)
8. Michael Schumacher, Mercedes 1:37.663 (15 laps)
9. Lewis Hamilton, McLaren-Mercedes 1:37.776 (8 laps )
10. Kamui Kobayashi, Sauber-Ferrari 1:37.977 (17 laps)