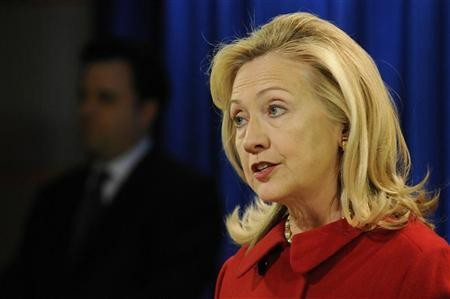 The US secretary of state, Hillary Clinton, has hinted she will step down at the end of the year, claiming she is ready for a rest.
Clinton, who ran for the Democrat nomination three years ago but was defeated by the eventual president Barack Obama, told department employees she wanted to "step off the high wire of American politics".
"I have made it clear that I will certainly stay on until the president nominates someone and that transition can occur if Obama wins re-election," she said. "But after 20 years it would probably be a good idea to just find out how tired I am."
Speculation will turn to a comeback in four years' time when there will be an open Democrat nomination race for president. Obama would have to step down after two terms in the White House, assuming he wins in November.
As secretary of state, Clinton, 65, is barred from partisan politics and she acknowledged it was unusual not to be participating in this election campaign. But she said she was enjoying being out of the fray and has not watched any Republican debates.
She said she expected the campaign for November's election to "suck up a lot of the attention" normally devoted to foreign policy issues, which she joked might actually help the
State Department.
"The good news is maybe we can even get more done if they are not paying attention, so just factor that in."