British boxers Fred Evans (welterweight) and Andrew Selby (flyweight) are both through to the quarter-finals of their respective events after beating Egidijus Kavaliauskas of Lithuania 11-7 and Kazakhstan's Ilyas Suleimenov 19-15, at the ExCeL Arena.
The bout between Kavaliauskas and Evans started slowly, with each boxer trying to adapt to the other's style and establish his own rhythm. Evans closed the match strongly though, hammering his opponent with a series of crosses, jabs and hooks to win comfortably.
The 28-year-old Welshman will face Canada's Custio Clayton, who won a tight 14-11 round against Cameron Hammond of Australia.
"I was expecting him to come straight at me but he stepped off and it got a little bit cagey. But I caught him early in the last round a few times and that's what made him come on and allowed me to open up. It was a terrific last round and I'm so happy I've pulled it out," a BBC report quoted Evans as saying.
"The atmosphere is unbelievable. Sunday was a big shock, but I felt a bit more comfortable this time because I knew what to expect. The Canadian looks a handful, is a strong kid, but I'm confident I can get the win and come away with a medal," he added.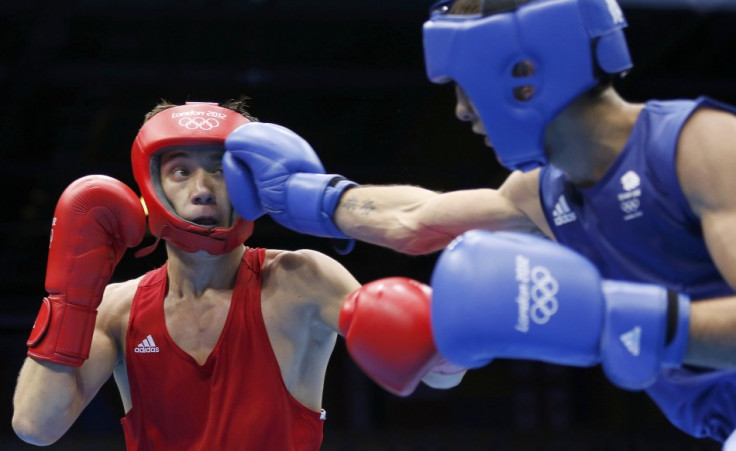 Meanwhile, Andrew Selby had a difficult match against Suleimenov, who was quick to punish the 23-year-old whenever he seemed to lack focus. However, the Welshman, after a disappointing first round, showed his fighting spirit in the next and finally won through, although he will want an improved performance when he takes on Cuba's Robeisy Ramirez Carrazana; the Cuban booked a spot in the next round after defeating Chatchai Butdee of Thailand.
Meanwhile, United States welterweight boxer Errol Spence has been reinstated into the competition following his controversial loss to India's Vikas Krishan. The Association Internationale de Boxe Amateur (AIBA) launched an inquiry into the result following a protest from the American camp and they discovered that Krishnan was cautioned only once by referee Lars Brovil of Denmark, despite committing nine holding fouls. The amended score, therefore, was 15-13 in Spence's favour (it was previously 11-13) and the American will now face Russia's Andrey Zamkovoy in the next round.