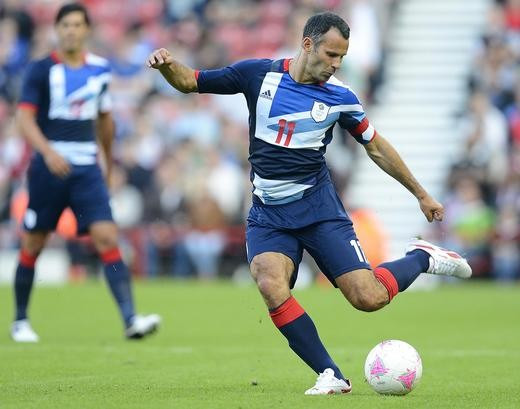 Ryan Giggs, the captain of Team GB's men's football team for the London Olympics 2012, will lead the team out at Old Trafford for their opening Group A game against Senegal, on Friday evening, in search of an Olympic gold.
Giggs has never played in a major international tournament, never having qualified for one with Wales. In an interview with The Sun, he admitted he remained frustrated at that missed opportunity but insisted the Olympics would be a perfect way to fill the hole in his already crowded trophy cabinet.
"As a footballer, you don't start out in your career hoping to win the Olympics. You want to win leagues, FA Cups and European Cups. I'm still disappointed I never got to a major championship with Wales but we weren't good enough to get to a European Championships or World Cup," Giggs explained.
He went on to state that while there were several strong contenders in the competition, he was confident in his team and their ability to put up a good fight.
"Of course, you want to win every game and win the tournament. We know it's going to be tough - but having seen the quality of our team over the last few weeks, we're hopeful of going a long way. An Olympic gold would be up there with my European medals. It's going to be difficult because there's a lot of quality in the tournament but there's quality in our dressing room as well," he added.
Meanwhile, Giggs' Manchester United team mate, Tom Cleverly, voiced his support for Team GB, who he thinks will be a force to be reckoned with at the Olympics.
"There is enough quality here," the midfielder explained, adding, "There is everything in this squad; youth, experience, enthusiasm, speed, technical ability and a good manager. There is no reason why we can't do well. It is a strong tournament but if we work hard and turn up on the day, I am sure we will be amongst the medals."
Team GB's biggest weapon, however, could well be the home field advantage and Old Trafford (Team GB vs Senegal), Wembley (Team GB vs UAE) and the Millennium Stadium (Team GB vs Uruguay) will be packed to the rafters with the local crowd.