Producers of the 2015 Billboard Music Awards have responded to the outrage over Kanye West's performance and they are not taking the blame.
Closing the awards ceremony at the Las Vegas' MGM Grand, the 37-year-old rapper performed a medley of his singles, All Day and New Slaves, but viewers at home were angered by the expletive-filled set.
Broadcast network ABC were forced to censor large chunks of audio due to West's constant swearing but TMZ reports that award organisers were unaware that the hip hop star's performance would feature explicit content.
According to the showbiz website, the Grammy-winner had not taken part in a dress rehearsal ahead of the star-studded ceremony so producers simply expected he would perform a clean version.
A Billboard source told the publication: "He knew it was national TV." Another insider said: "He's Kanye. What are we supposed to do?"
Watch Kanye West's Billboard Music Awards performance:
Just moments before he arrived on stage, the Watch The Throne rapper's sisters-in-law, Kendall and Kylie Jenner, were booed by the audience when introducing his performance.
It is not the first time Kim Kardashian's husband has caused a headache for award show producers.
In February, his performance at the Brit Awards in London was heavily panned after the audio was muted multiple times by ITV.
An ITV spokesman released a statement saying: "ITV took the decision to use an audio mute during the performance. The Brits is broadcast live on ITV from 8pm to a wide audience.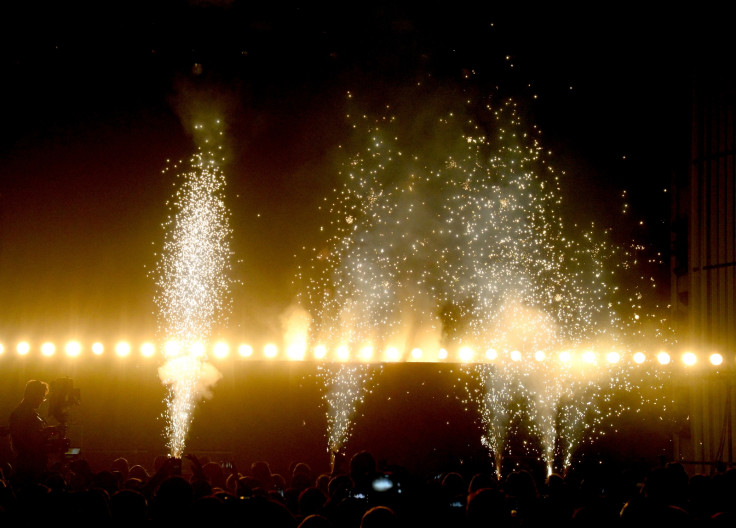 "We have operated a short time delay as standard practice for some years on the show, to allow us to mute language that may be inappropriate for that wide audience, and elected to do so in this case, given the performance took place shortly after the 9pm watershed."
Other performances at the 2015 BBMAs were much cleaner with rapper Wiz Khalifa paying tribute to late Fast & Furious actor Paul Walker with a performance of his number one ballad See You Again.
Mariah Carey celebrated her outstanding award win by performing her first ever Billboard number one single Vision Of Love and her latest track Infinity. Iggy Azalea and Britney Spears also sang their new single for the first time, Pretty Girls.