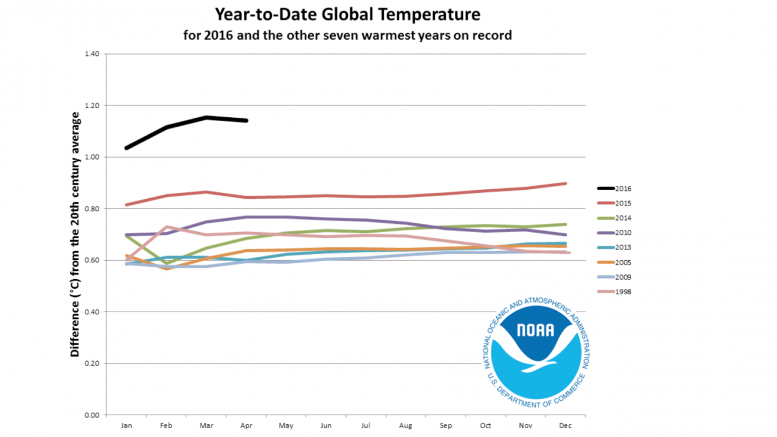 After 12 consecutive months that broke heat records, there's a 99% chance that 2016 will be the hottest of the last 136 years, according to the latest data released today (26 March).
The year is already shaping up to be significantly warmer than the previous seven hottest years on record — all of which occurred since 1997 — according to statistics from the US National Oceanic and Atmospheric Association (NOAA).
Greenhouse gases are thought to be the cause of the rise in heat levels across the globe. The warming influence of carbon dioxide has increased by 50% above pre-industrial levels during the past 25 years, according to NOAA's Annual Greenhouse Gas Index.
"We're dialing up Earth's thermostat in a way that will lock more heat into the ocean and atmosphere for thousands of years," warned Jim Butler, director of NOAA's Global Monitoring Division.
The relentless heat increase is "pretty striking," Astrid Caldas, a climate scientist with the Union of Concerned Scientists, told the Huffington Post. "I'm just in shock. I wish it weren't so."
Caldas noted that she didn't expect the planet would arrive at this point so quickly.
"I think most climate scientists are surprised at the speed that it's happening," she added. "At the same time, with emissions peaking again last year everything was pointing to an increased temperature. It's the amount by which the records are being broken, not the fact that the record's being broken, that's really striking."
The most recent data revealed that April 2016 was the warmest April on record, just like the previous 11 months were the warmest since 1880 when NOAA began tracking temperatures. April 2016 was recorded as 1.10C above the 20th century average of 13.7C.
That represented the fourth highest anomaly — variance from the long-term norm — on record. The highest anomalies on record occurred in December 2015, and in February and March 2016. Thirteen of the 15 highest monthly anomalies have all occurred since February 2015.
Certain areas in April experienced particularly high spikes, like much of Russia and Alaska. Global oceans were also warmer than average, with a large portion of the Indian Ocean experiencing record warmth.
Some of this increase may also be attributed to El Nino conditions, but the long hot spell has easily surpassed the level of heat recorded in 1998 - the last time there was a similar El Nino oscillation.