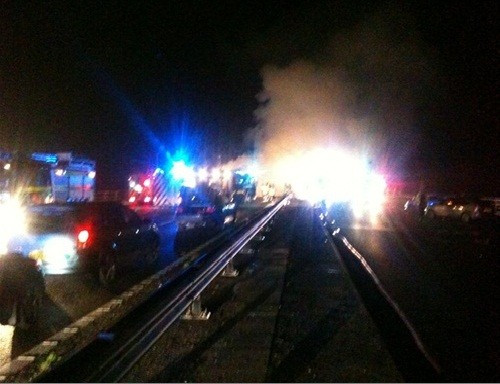 In one of the worst road collisions in the history of the UK, around 27 vehicles have crashed on the M5 motorway near Tauton, Somerset, claiming several lives and leaving around 35 people hurt, police said Friday.
According to the Avon and Somerset police, the crash that took place around 8.30 pm eventually led to an inferno at the scene. It has been reported that at least 11 persons died due to the fire.
Twenty light vehicles and six articulated lorries were involved in the collision.The M5 motorway has been shut in both directions between junctions 23 and 26 at least for the next 24 hours. Police have urged motorists to avoid the area.
Police, fire and ambulance services are at the spot. "All emergency services are on the scene doing as much as they can to continue the rescue operation and to treat those who are injured. There are large tailbacks at present and we would urge all to avoid the area for the next 24 hours at least," said chief inspector Paul Mogg.
In Tauton, Musgrove Park Hospital was treating 16 casualties for a range of trauma injuries. "We are continuing to support the emergency services who are still working at the scene. Our thoughts are with everyone affected by this tragedy," said chief executive Jo Cubbon.
Police issued an emergency helpline number - 0800 092 0410 - for the concerned citizens.
"Undoubtedly this is a tragic incident. All emergency services are at the scene and are working tirelessly to attend to those who are injured or who are trapped in vehicles," said assistant chief constable Anthony Bangham.
"We have now launched an emergency number members of the public can call if you genuinely fear for the welfare of a friend or loved one and you fear they may be injured. Before you call the emergency number, please make all attempts to contact them via mobile phones or via friends, family or by any other usual measures. If this fails and you still remain concerned please call 0800 092 0410," Bangham added.
It has been reported that the multiple-vehicle collision could have been caused due to bad weather conditions.
Past Motorway Crashes
In October, a West Yorkshire police officer was killed in a traffic collision on the southbound carriageway of M1 between junctions 39 and 38 after being hit by a lorry. The officer was helping a woman whose car had broken down and was parked in the emergency lane.
In mid-May, two women died in a double fatal road crash after a lorry crashed into their car on the M5 between junctions three and four near Frankley services in Worcestershire.
In August 2010, an eight vehicle pile-up on the M5 between junctions 29 and 28 had left a 21-year-old woman critically injured.