At least 38 people have been killed during the weekend in eastern Mexico after mudslides and flooding were triggered by heavy rains from what was left of Hurricane Earl. The country's mountainous northern state of Puebla is one of the worst hit, where officials say 28 people died, while 10 others were killed in neighbouring Veracruz.
Earl was briefly a category 1 hurricane before hitting Belize and Yucatan Peninsula, which later dumped rain causing dangerous landslides across some parts of the eastern region. The tropical storm was demoted to a depression after wreaking havoc in the Caribbean.
The death toll is feared to rise as inundated hillsides were collapsing onto modest homes, said Luis Felipe Puente, head of national emergency services.
Images broadcast on local television showed massive mudslides burying entire hillsides, fallen trees and collapsed walls and roofs.
"We continue to monitor rivers that are above critical levels," Reuters reported governor Javier Duarte as saying. "It is a tragedy what has happened to our people in Huauchinango."
The site at Huauchinango, a remote town located in the rugged Sierra Norte de Puebla mountains, was reported to be the worst hit so far.
The heavy rainfall also reportedly forced a section of the main motorway that connects capital Mexico City to the region to remain shut.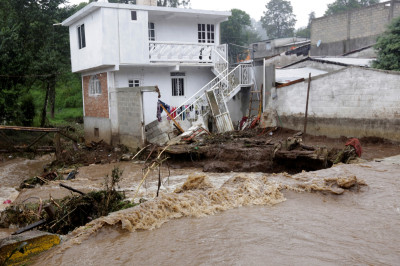 Before striking Mexico, Hurricane Earl headed to the Caribbean country of Belize, after drenching Honduras with incessant rainfall. The storm left the country battered last week, with reports of flooded roads in some parts of the coast, smashed car windows and collapsed roofs of wooden houses.
Meanwhile, Tropical Storm Javier of about 45mph has formed off Mexico's port of Manzanillo on Sunday (7 August). It was forecast to be moving north at about 14mph and is expected to hit the southern portion of the Baja California Peninsula on Monday (8 August), with the likelihood of four to eight inches of heavy rain and strong winds.