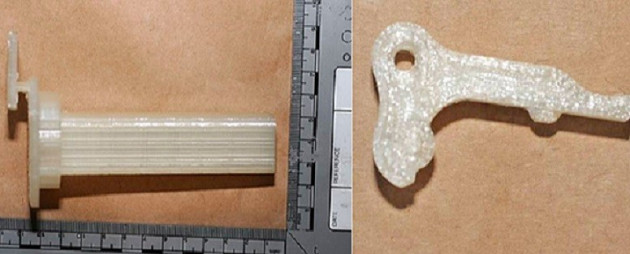 A suspected 3D printed gun factory uncovered in Manchester could actually be a case of the police shooting themselves in the foot.
Parts found in a raid on a property used by suspected organised criminals looked like homemade parts for firearms created by a hi-tech 3D printer.
Greater Manchester Police (GMP) released an image of a printed component suspected of being a gun trigger, alongside what looked like a magazine for holding bullets.
But now it appears that officers may have jumped the gun after members of the public claimed that neither component was any such thing.
On Twitter, DJ Walker-Morgan was among those who highlighted the potential case of mistaken identity.
They claimed that the component resembling a trigger belonged to the 3D printer itself, while the "magazine" was really a humble filament spool holder.
If correct, it would shoot down claims by police that dangerous criminals were producing the next generation of weapons.
However, questions still remained about what the printer was being used for in the property.

GMP said: "Component parts for what could be the UK's first 3D gun have been seized by Greater Manchester Police. During the searches, officers found a 3D printer and what is suspected might be a plastic clip and a 3D trigger which could be fitted together to make a viable 3D gun.
"If they are found to be viable components for a 3D gun, it would be the first ever seizure of this kind in the UK. The parts are now being forensically examined by firearms specialists to establish if they could construct a genuine device."
Simultaneously, senior police officers conducted TV interviews about a danergous new example of technology being abused by organised criminals.
After doubts were thrown on claims that the plastic parts could be assembled into a weapon, Assistant Chief Constable Steve Heywood said: "At that this stage, we cannot categorically say we have recovered the component parts for a 3D gun."
He refused to rule out the possibility of the 3D printer being used by criminals to make their own weapons.
"The worrying thing is for me is that these printers can be used to make certain components of guns, while others can be legitimately ordered over the internet without arousing suspicion. When put together, this could allow a person to construct a firearm in their own home."