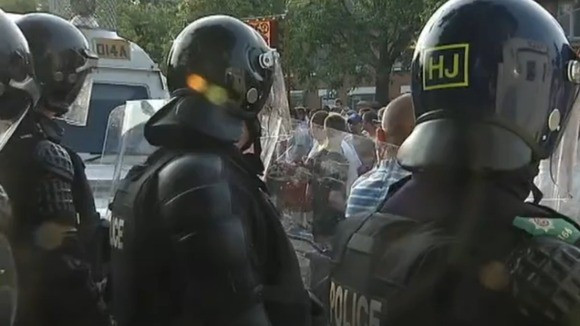 Four hundred more British police officers are being deployed to keep order on the streets of Belfast after a night of rioting by loyalists left more than 30 officers injured and a Unionist MP in hospital.
Northern Ireland chief constable Matt Baggott said the additional officers were being drafted in to cope following a night of "shameful and disgraceful" violence.
They will support more than 600 officers from England, Scotland and Wales already in the region to support the Police Service of Northern Ireland after violent clashes broke out over the 12 July parades by the loyalist Orange Order.
Baggott described the Orange Order's call for protests in response to orders to redirect a section of the march as "reckless", saying the order "needs to reflect" on its position.
Police came under attack with petrol bombs, fireworks, bricks, bottles and stones, with one rioter wielding a ceremonial sword.
Loyalists had been angered when authorities enforced a ban on the march passing through a particular route in north Belfast, as Orangemen commemorated a historic victory at the battle of the Boyne.
Baggott said there appeared to be "no plan, no control" by the Orange Order leadership, although he stressed they were not directly responsible for the violence, which left Democratic Unionist MP Nigel Dodds hospitalised after he was knocked unconscious by a flying object, believed to be a brick.
Also caught up in the violence was former EastEnders star turned professional dangerman Ross Kemp, who was there to film his latest daredevil series for Sky TV.
Kemp was caught on camera by a local resident. Watch him on the video below.