Arsenal midfielder Aaron Ramsey is hopeful a deal to keep captain Robin van Persie at the club can be agreed after last season's top scorer revealed last week his intension not to sign an extension to his current contract.
Van Persie, who netted 30 goals last season, came to the decision having met with manager Arsene Wenger and chief executive Ivan Gazidis, whose future ambition for the club differed from that of the Netherlands forward.
Despite having signed strikers Lukas Podolski and Olivier Giroud, the loss of Van Persie would be a major blow to an Arsenal side who are seven years without a trophy; but Ramsey is upbeat over the prospect of retaining the club's star striker.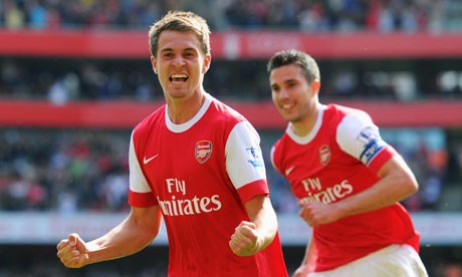 "I hope Robin Van Persie stays at Arsenal," he told talkSPORT. "I haven't read too much about what's going on but we're hopeful he'll stay.
"He had a big season last year with the amount of goals he scored. Arsenal want to keep players like that at the club, so hopefully we can do it."
However, he told Press Association Sport over Van Persie's future: "There is no need for me to get involved in that.
"I don't know and we as players don't know what is happening so we will just have to wait to see what happens."
The 28 year old's statement has sparked talk of a move to Manchester City and Manchester United this summer, instead of Van Persie seeing out the remainder of his contract at the Emirates Stadium.
Arsenal would be missing out on a fee for Van Persie should he stay for the duration of next season, with the former Feyenoord youngster allowed to leave on a free next term.
Should the Gunners opt to sell this summer, then the club have ready-made replacements in the shape of new recruits Podolski and Giroud, players that hopefully can make a worthwhile contribution next term according to Ramsey.
"They are great additions to the squad," the midfielder said.
"Hopefully they can do their bit for the team and hopefully we can have a big season."