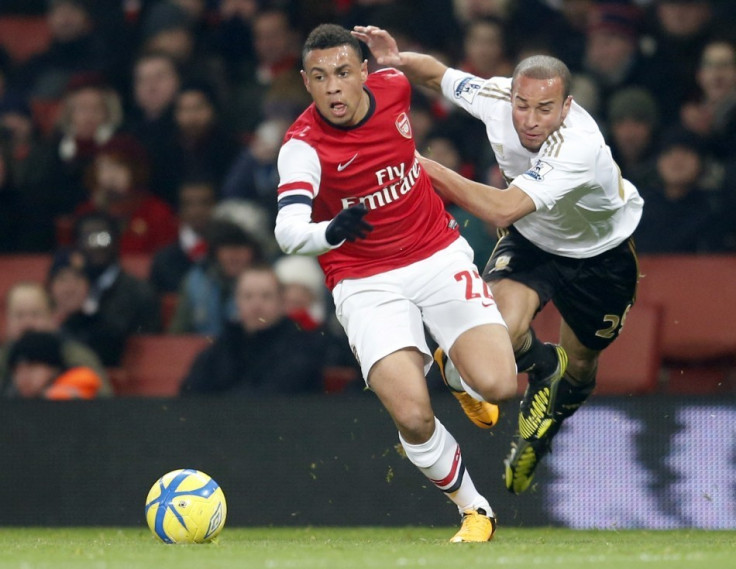 Arsenal star Aaron Ramsey has lavished praise on Francis Coquelin for how the Frenchman is coping with Mikel Arteta's injury absence in the holder role following his return from Charlton Athletic, claiming "he has got every chance of turning into a top defensive midfielder."
Having joined the Gunners in 2008 from Stade Lavallois as a prospect for the future, the 23-year-old star had failed to establish in the first team during the previous campaigns at North London and looked completely out of favour with Arsene Wenger.
But last month the manager was forced to recall him from his loan spell at Charlton Athletic in a desperate attempt to address the injury crisis at the Emirates Stadium.
Coquelin has since excelled in the holder role, starting the last four Premier League games – as well as in the FA Cup game with Hull – even ahead of Mathieu Flamini.
While after the 2-0 victory over Manchester City, Wenger himself hailed Coquelin's performance, Ramsey now added: "He has done well."
"He's at that age now where he understands the game a lot more and he has done really well in the last few weeks," Ramsey said to Arsenal official website.
"It is funny how quickly things can change in football. One week he was on loan at Charlton and then he comes back in and he has been in the team every week. He has done a very good job defensively for the team."
Wenger suggested last week that the Gunners are looking to sign a holder and a defender during the current transfer window after confirming both Arteta and Mathieu Debuchy are going to be on the side-lines for a while.
However, the manager may now rethink his plans to sign a holder following Coquelin's latest performances.
In this sense Ramsey believes the 23-year-old can eventually become a "top" holder in the near future.
"He wins it back, keeps it simple and just keeps things ticking over. Hopefully he can build on his performances that he has been showing of late and he has got every chance of turning into a top defensive midfielder."