On remote hilltops in Bosnia, Croatia, Serbia, Kosovo, Slovenia, and Montenegro stand giant monuments to the former Yugoslavia, a state that no longer exists.
The memorials were commissioned in the 1960s and 1970s by former Yugoslavian president Josip Broz Tito to commemorate WWII battles and atrocities.
The futuristic brutalist concrete structures were designed by different sculptors and represented the strength and confidence of Tito's socialist republic.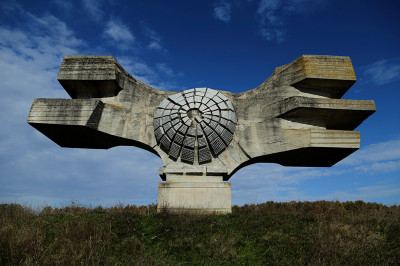 These monuments once received millions of visitors a year, particularly on Republic Day on November 29, marking the creation of socialist Yugoslavia.
Many are now neglected or ignored, abandoned symbols of a state forged during World War II, but torn apart by nationalism half a century later.
Republic Day is no longer marked in any of the seven independent states that emerged from the ashes of Yugoslavia.