The recent tragedy where a teenage girl starved her mother to death by tying her to a chair for a week in China has highlighted the dubious and often brutal internet addiction treatment centres that are being set up across the country.
According to Chinese investigative news site The Paper, a 16-year-old girl from Heilongjiang province in northern China has been arrested on manslaughter charges after she tied her mother to a chair for a week and left her there. It is believed this was part of an attempt to extort thousands of dollars in ransom from her relatives as retaliation for being sent to an abusive military-style boot camp for juveniles with behaviour problems.
The girl wrote of her traumatic experience in a blog post and sent her aunt photos and videos of her mother tied to the chair, demanding money so that she could move to Harbin city and attend a physics school.
The aunt wired the money, but when the girl returned to release her mother, she found her dying. Although she called the ambulance, the mother died and the girl surrendered to the police.
Kidnapped and taken to a school most people didn't even know of
The tale of woe began when the teenager became violent and stabbed her father with a knife during a quarrel over the fact that she had dropped out of school to work in a nightclub. The father was hospitalised and an aunt suggested that the girl be sent to an internet addiction boot camp, which have become all the rage in China.
In February, the girl was sent to the Shandong Science and Technology Defense Training Institute in Shandong province, over 1,500km away from her hometown. Her ordeal began when she was abducted outside the nightclub by two strange men and a young woman in a car, and her personal effects were confiscated from her.
The girl tried to escape twice during the journey, but was unsuccessful and forced to spend four months in the internet addiction boot camp before finding a way to escape.
The Paper said that few people in Shandong province had any knowledge of the boot camp, but a visit to the site showed that the treatment centre was being housed in a five-story building with iron bars across all the windows. The compound was protected by heavy iron mesh fences complete with barbed wire on top.
The boot camp's official website states that it is a school started in 1996 and has helped "more than 7,000 troubled teens" quit their addictions. It currently has an enrolment of 580 students. It is a strange location for a school however, as The Paper's reporters found that the camp seemed to be hidden in an industrial estate, surrounded on all sides by building sites, warehouses and cement mixers.
Ample evidence of widespread physical and mental abuse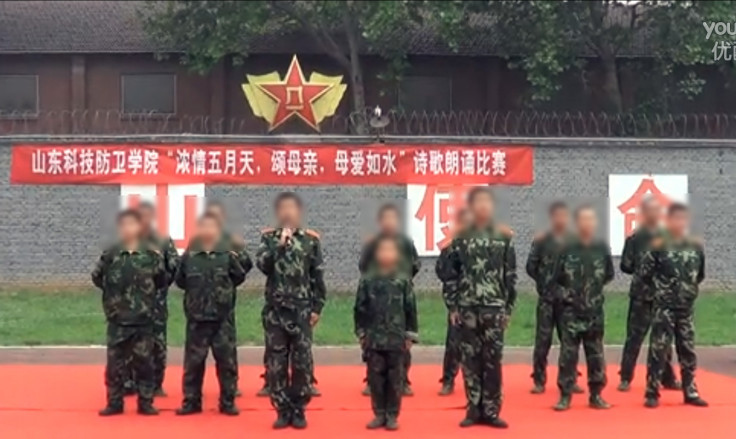 In a blog post dated 26 August, after escaping from the camp, the girl outlined her treatment during her ordeal. She said that the students were frequently beaten for no reason, and those who did not behave were forced to eat their meals in front of a latrine pit.
"I am angry. People point at my nose and call me unfilial and worse than a beast. It was them who sent me there. It was them who cursed me and beat me, it was them who sabotaged my life and libelled my character; but it was also them who said they loved me. My friends here, if it were you, what would you do?" she wrote.
"I will use their money to practice boxing and martial arts, and ambush them later. I will make them disabled, if not die."
After the family's tragic tale was published, it went viral across China and led to other former students of the boot camp coming forward. A teenage boy said he was abducted by two men who pretended to be police officers, claiming he was being taken to a police station to be questioned over an alleged assault.
Instead he was driven down a remote mountain road to the Shandong Science and Technology Defense Training Institute in 2014. He claims that the camp's instructors used Tasers and sleep deprivation for discipline and that he was punched, sworn at and had his hair pulled.
The rules of the school forbid the students from smoking, drinking, falling in love, trying to escape, attempting suicide, fighting or contradicting the instructors.
Parents are only allowed to visit their children once every three months, and children aged from eight and up were sent to the school for every kind of reason you can imagine, from addiction to the internet or gaming, to being homosexual or having mental health issues. In one case, one of the former students who contacted The Paper said that a husband had put his wife into the school.
School personnel even tried to attack reporters
The boot camp's official website states that psychological counselling experts are on its payroll and that it only caters to high school students. But when interviewed, the school denied that it offered services for dealing with rebellious youths, instead claiming it was just a regular high school.
And when contacted by The Paper, the Jinan City Board of Education, which controls the district where the camp is located, said that the school's address seems to have been registered under several different names.
After news about the scandal broke, multiple journalists began doorstepping both the school and the home of its principal, and The Paper said that there were altercations with the principal threatening physical harm against its reporter, and the police had to get involved. Journalists that tried to take pictures through the mesh fence at the school's compound also had their smartphones snatched by school personnel.