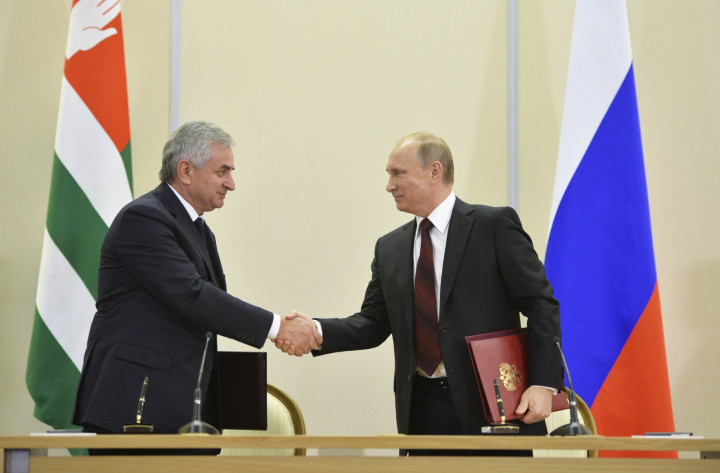 Russia has been accused of taking a "step towards annexation" of yet another territory after signing a deal with Georgia's breakaway region of Abkhazia.
With the new treaty, Russian and Abkhazian forces in the territory will turn into a joint force called Combined Group of Forces and led by a Russian commander within one year. The move raised suspicion that the Kremlin is quietly bolstering its imperialist agenda after its annexation of Ukraine's Black Sea peninsula of Crimea in March.
It also upset several Abkhaz citizens who fear that Russian oligarchs will try to snap up the region's lush Black Sea coastline
Russian president Vladimir Putin, who has shaped his foreign policy around the expansionist ideal of Great Russia, said: "I'm sure that cooperation, unity and strategic partnership between Russia and Abkhazia will continue to strengthen."
The 240,000-strong region broke away from Georgie in the aftermath of the fall of the Soviet Empire in the early 1990s. Several thousand people were killed and more than 200,000 Georgians were forced to flee as a consequence of the war that ultimately led to Abkhazia's de facto separation. Russian troops have been deployed since then.
Relationship between Georgia and Russia crumbled in August 2008 after the former Georgian president Mikhail Saakashvili attempted to restore control over another breakaway province, South Ossetia. Russian forces beat the Georgian troops in five days and Moscow recognised both provinces as independent states.
The region has been facing an international economic embargo since it declared independence, a status recognised only by Russia, Nicaragua, Venezuela and a handful of small Pacific states.
But mass-scale unrest broke out this year shortly after Russia, Abkhazia's main financial and political backer, opted for a cut in payouts. Senior figures in the region claimed Abkhazia's stability was threatened by a cocktail of anti-Georgian nationalism and the growing influence of Russia on local affairs.
Between 2010 and 2012, the Kremlin poured 6bn Rubles (£102m) - 70% of the region's budget - into the impoverished territory that was once the USSR's top holiday destination. Grants for this year were reportedly reduced to less than 1bn Rubles.
As a result, president Alexander Ankvab was forced to step down. Raul Khadzhimba, a former Soviet KGB officer, was elected president in August.
Pulling the strings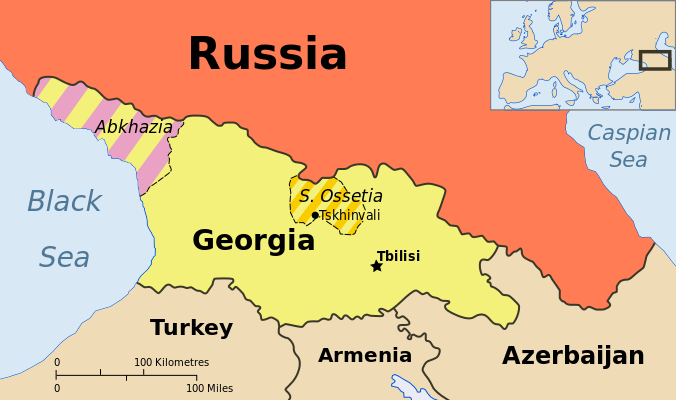 Kremlin critics suspect that Moscow was behind the demonstrations against Ankvab, who resisted pressure from Russia. Khadzhimba, instead, said that ties with Russia "offer us full security guarantees and broad opportunities for socio-economic development" upon signing the deal with Putin.
The contrast between pro-Russians and Abkhazian nationalists in the region may plunge the tumultuous territory in a civil war-like conflict similar to the one in eastern Ukraine.
Georgian president Giorgi Margvelashvili said the treaty "further aggravates situation in South Caucasus".
"It is obvious that without adequate response, Russia will continue its expansionist and annexationist policy on the post-Soviet space," Margvelashvili, before calling on the international community to take "anti-annexation steps".
The final text of the treaty sets a coordinated foreign policy, with Russia pledging to broaden international recognition of the region. It also includes the creation of "common security and defence space" with the purpose of "repelling aggression" and defend Akhbaz borders.
In time of war or when there's threat of aggression, the commander of the Combined Group of Forces will be appointed by Russia, according to the deal. The existence of the treat will be determined through a "mutually agreed decision of authorised agencies" of Russia and Abkhazia.
Moscow will also ease procedures for those Abkhaz citizens who want to obtain Russian citizenship. A clause to simplify procedures for granting Abkhaz citizenship to Russians was removed for fear that ethnic Georgians who fled the territory in the 1990s and now live in Russia may reclaim property in Abkhazia.
Under the agreement, Moscow will also raise its subsidies to Abkhazia to about 9.3 billion rubles (£131 millions).
The European Union, the US and Nato condemned the "so-called treaty" saying that it contradicts principles of international law. The US department of State deplored the deal saying that they will not recognise its legitimacy. The Norwegian ministry of foreign affairs tweeted:
Nato's secretary general Jens Stoltenberg called on Russia to reverse its recognition of the two breakaway regions: "This so-called treaty does not contribute to a peaceful and lasting settlement of the situation in Georgia. On the contrary, it violates Georgia's sovereignty and territorial integrity and blatantly contradicts the principles of international law, OSCE principles and Russia's international commitments."