As the world continues to fret over the future of Ukraine, another former Soviet region is erupting into equally tumultuous revolt 600 miles down the Black Sea coast.
Senior figures in Georgia's breakaway territory of Abkhazia claim the region's stability, and independence, are being threatened by a cocktail of anti-Georgian nationalism and the growing influence of Russia on local affairs.
President Alexander Ankvab resigned over the weekend, after he was forced to flee the capital of Sokhumi by a wave of unrest fuelled by the ailing economy. Russia, Abkhazia's main financial and political backer, sent in two senior officials to mediate. Their arrival was followed by talks on Sokhumi strengthening its ties to Moscow.
"The fully independent status of Abkhazia is under some sort of question mark after last week," George Hewitt, Abkhazia's honorary consul in Britain told IBTimes UK.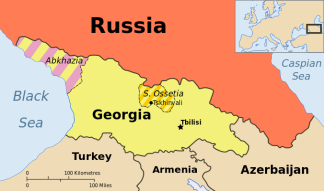 Abkhazia's longstanding financial troubles were exacerbated this year by a cut in payouts from Moscow, which in 2012 accounted for about 70% of the region's budget.
Between 2010 and 2012 the Kremiln poured 6bn Rubles (£102m) into the impoverished territory that was once the USSR's top holiday destination. However this year grants were reportedly reduced to less than 1bn Rubles.
Hewitt said the slash was expected, as the Kremlin had spent a massive amount of money on the Winter Olympics in the neighbouring Sochi region.
The cut had a drastic impact on Abkhazia's economy, as its only other major source of income is tourism.
The region has been facing an international economic embargo since it declared independence from Georgia in 1999, a status recognised only by Russia, Nicaragua, Venezuela and a handful of small Pacific island states.
After turmoil erupted last week, Ankvab's interim successor, Valery Bganba, said it was possible that Abkhazia would join the Eurasian Union and the Customs Union, a free trade agreement between former Soviet states strongly wanted by Vladimir Putin.
The signing would lure another Black Sea territory deeper into Moscow's orbit, after the annexation of Crimea.
"There is a feeling among some of the opposition that this is the way for Abkhazia to go," Hewitt said.
Georgia's interior minister Irakli Alasania went as far as saying that Ankvab's toppling was orchestrated by Russian special services to mar the signing of a rival association agreement between Georgia's capital Tbilisi and the EU, scheduled for this month.
Nationalistic fears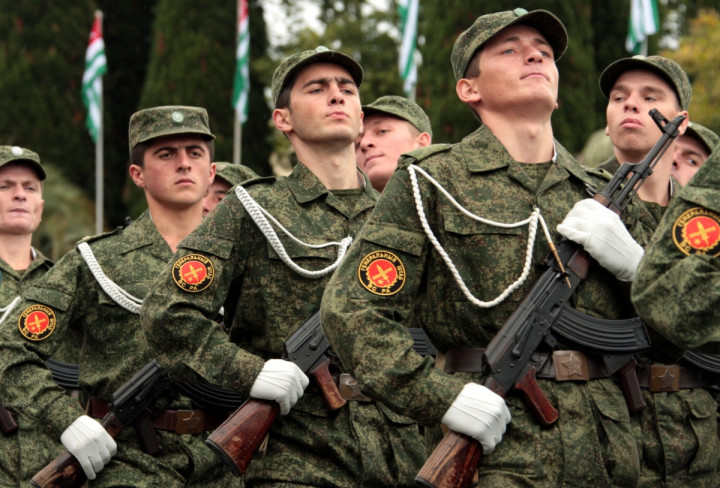 Georgia is also worried by the reinvigorated Abkhaz nationalistic sentiment that helped generate support against Ankvab.
"When you're in dire economic circumstances it follows the question of finding a scapegoat," Hewitt, a professor of Caucasian languages at London's School of Oriental & African Studies, said.
Protests in Sokhumi were led by Raul Khadzhimba, an ex-KGB officer who served as Abkhaz prime minister and has enjoyed the backing of the Kremlin in the past.
Khadzhimba rallied against Ankvab's policy of giving Abkhaz passports to Georgian people in the southeastern Gali region.
The so-called passportisation policy irritated hardliners, especially those who fought in the Georgian Abkhazian conflict in the 1990s, many of whom believe only ethnic Abkhaz should live in the region.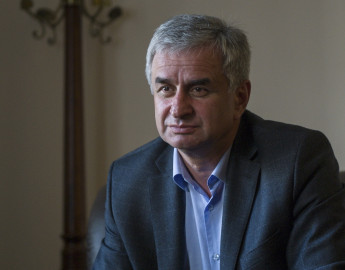 Several thousand people were killed and more than 200,000 Georgians were forced to flee as a consequence of the war that ultimately led to Abkhazia's de facto separation.
About 30,000 Georgians are believed to be currently living in the Gali area. Their status remains controversial. Those without a passport are subject to a series of limitations, for example they can't buy properties or vote.
The passportisation was thus welcomed by Georgians and in turn gained Ankvab a considerable amount of votes.
"Ankvab twice was successful in elections due to the citizens of Gali," Zviad Logua, a 34-year-old Gali native, said.
Khadzhimba, who lost in the same elections, and other opposition groups have branded the policy a "threat to Abkhaz sovereignty" and ordered the reclamation of thousands of passports.
Whether that will happen largely depends on the result of fresh presidential elections set for August. None of the potential candidates has yet declared he will run.