Great Britain's Kyle Edmund has revealed the shocking abuse he received at the hands of trolls on social media after defeat to Novak Djokovic at the BNP Paribas Open in Indian Wells. The 22-year-old performed admirably but was defeated 6-4 7-6 [7-5] in the second round in California, troubling the former world number one in dispatches during their clash.
Defeat continues Edmund's wait for a title on the ATP Tour, with the South Africa-born player's success restricted to events on the Challenger and Future circuits – across which he has 10 tournament victories in all. Furthermore, the world number 46 has now lost each of his three meetings with Djokovic, failing to even claim a set against the Serbian.
But just hours after the straight sets loss Edmund disclosed how the result had been received among followers online. The former US Open junior doubles champion was sent a series of messages on Facebook which included several death threats and criticism for the failings in his career.
Edmund shared screenshots of the posts on his official Facebook page, which has over 11,000 likes, along with the message: "More satisfied customers following the BNPPO17." A string of messages from an anonymous user read: "You need to be brutally raped and slaughtered. Cut into tiny pieces." The troll added: "I'm going to f***ing annihilate you."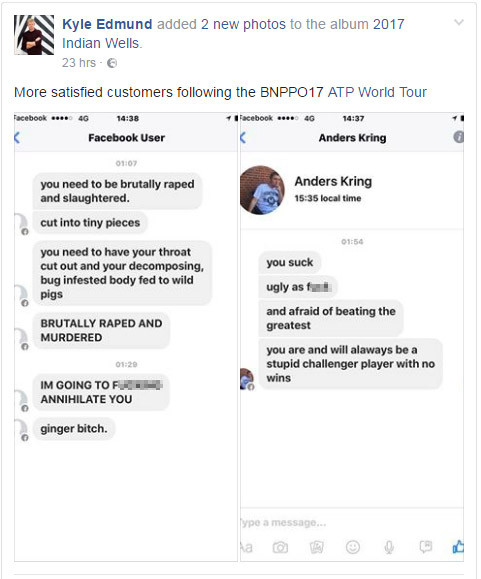 A user by the name of Anders Kring wrote to the Davis Cup 2015 winner: "You suck. Ugly as f***. And afraid of beating the greatest. You are and will always be a stupid challenger player with no wins."
Abuse being directed towards sportspeople on social media is becoming an increasing problem. Father Steven Edmund revealed last year that his son always receives messages of abuse after losing matches and often even after winning.
Britain's number one female tennis player Johanna Konta spoke in January 2016 of the reproach she has been subjected to following defeats, largely from fans who have lost money betting on matches. "You get these trolls basically on social media and it's your responsibility to report them, so I'm aware of the code and how to handle these situations and I know a lot of players are very much reading up on it, and making themselves prepared for this sort of situation," the Sydney-born player said. "It comes in talking about money so in that sense it's talking about gambling, but I have never had an approach or anything like that."
A spokesman for the tennis Integrity Unit, which urges players to report abuse, said in a statement: "Online abuse of players through social media is an area of growing concern."