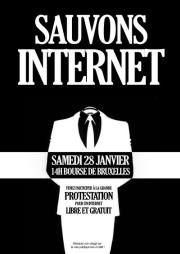 Anonymous has called all Belgian citizens to gather on Brussels' streets on Saturday to demonstrate against an international copyright agreement, which has been signed by several EU countries.
The French and Belgium branch of the hacker collective urged people to take to the streets and protest against Anti-Counterfeiting Trade Agreement (Acta).
Demonstrators fear that Acta will be as pernicious as Sopa, the Stop Online Privacy Act, had it not been withdrawn by the White House and the US Senate after a mass protest by hundreds of major user-generated content websites.
According to the Electronic Frontier Foundation (EFF), the bill will deal primarily with counterfeit physical goods such as medicine but experts claim it will have broader scope and will deal with new tools targeting "internet distribution and information technology".
"Several laws are going to be voted in Europe and the USA to censor the Internet (ACTA, SOPA, PIPA)," reads a statement posted on Facebook. "Megaupload is only the beginning because if these laws are voted and passed, our beloved Internet as we know it will disappear. Youtube, Facebook, Twitter, Myspace and many other sites will get purely and simply closed. This will let them watch over us!!!"
The statement stressed that it is a peaceful demonstrations and that Guy Fawkes masks are forbidden in public spaces under Belgian laws.
Around 1,000 people have answered positively to the invitation on Facebook.
Poland signed the controversial Anti-Counterfeiting Trade Agreement (Acta) despite huge demonstrations in Warsaw streets and the hacking of governmental websites in a week of protests. Poland's Prime Minister Donald Tusk insisted that his government would not "succumb to blackmail". Members of Poland's left-wing Palikot Movement wore Guy Fawkes masks - the universal symbol of anti-establishment dissent - in parliament in protest against the proposed bill.
Poland was one of several European Union countries to sign ACTA Thursday, including Finland, France, Ireland, Italy, Portugal, Romania and Greece.
Several other industrialized countries, including the United States, Canada and South Korea, signed the agreement last year.