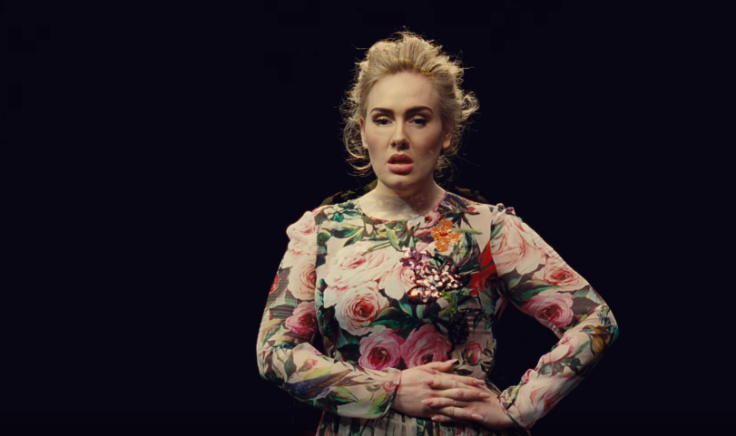 Adele won the award for top 200 album of the year at the Billboard Music Awards, which were held on 22 May at the T-Mobile Arena in Las Vegas. But more than celebrating the award, fans were excited when they got a special treat in the form of the premiere of her latest music video.
The Hello hitmaker released the much-awaited video to her song Send My Love (To Your Lover) from her album 25 at the event. Back in April, she told her concert audience in Stockholm that she would be dancing in her new video. "You'll not believe it, but I'm dancing in it. Can you believe it?" she informed the crowd at the time. And true to her word, Adele shows off a couple of moves while performing in front of a plain black background.
There is not much of a story line to the video, the whole focus of which is the singer performing the track in a floral dress. It does, however, have some kaleidoscopic image-overlapping that, accompanied by the upbeat guitar notes, gives the whole production a trippy vibe.
She earlier revealed that this song too was inspired by an ex-lover but unlike many of her other hits, has a "happy" tune. And as for the ex... "I have no idea where he is now," she told iHeartRadio.
The When We Were Young singer had released a teaser to the video on 16 May and informed that it was shot in London and directed by Patrick Daughters who is known for his work with Yeah Yeah Yeahs, Feist, Kings of Leon and Snow Patrol.
The lyrics for the song were a collaborated effort with Swedish songwriters Max Martin and Shellback (Karl Johan Schuster), who have produced a number of hit songs including Taylor Swift's We Are Never Getting Back Together and Bad Blood and Justin Timberlake's Can't Stop The Feeling.
Adele was unable to debut the new video in person since she is currently in Europe on her sold out tour. After the Europe leg wraps up on 15 June, she will head across the ocean to North America for another round of concerts in July.