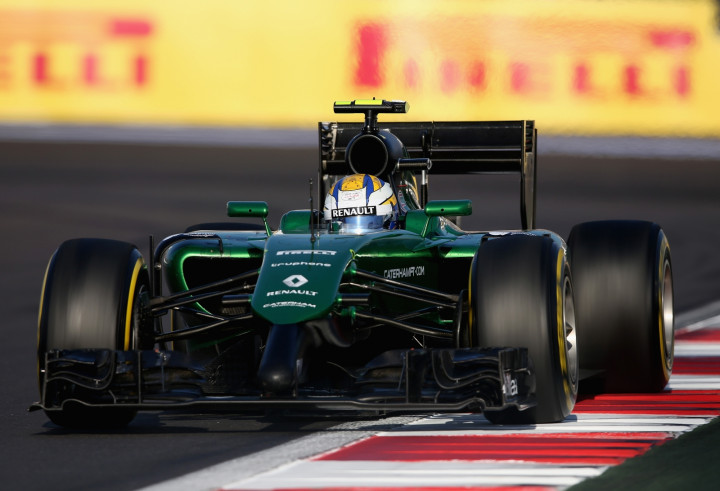 Caterham has formally entered administration in the latest development of a saga engulfing the F1 team.
The team's future was thrown into doubt this week amid a dispute between former owner Tony Fernandes and the current management team Engavest SA.
Following exchanges of blame between the two parties on Thursday (23 October), Caterham has confirmed the team is now being run by administrators Smith & Williamson, headed up by Finbarr O'Connell.
"Following a request of yesterday evening at 21.55hr CET from Caterham Sports Limited's administrators and the legal advisors of Mr Tony Fernandes' related EXIM Bank, representatives of 1MRT/Caterham F1 Team have agreed, with all rights reserved, to hand-over management of the Caterham F1 Team to the administrator Mr Finbarr O'Connell in the higher interest of allowing the team to continue operating and preparing for the next events," read a statement from the team.
The Engavest consortium, made up of investors from Switzerland and the Middle East, claimed on Thursday Fernandes had not completed his part of the deal by handing over his shares.
Fernandes then broke his silence over the dispute and countered by insisting that Engavest's failure to pay creditors was the reason for the stand-off.
Earlier this week, Caterham Sports Limited (CLS), who supply the team and who are based at the same facility in Leafield, entered administration, a development the team predicted would have "devastating effects" on its future.
Fernandes claimed in his statement that Engavest had failed to pay CLS's creditors, stating: "If you agree to buy a business, you must pay its bills. They have breached that promise and now, sadly, it is others, such as the employees and the fans of the Caterham F1 team, that will suffer if the team ceases to race. I sincerely hope that this will not be the case and that a solution can be found."