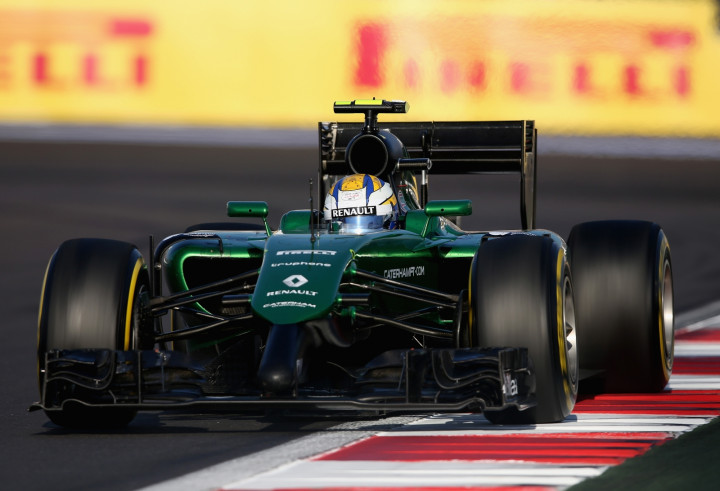 Tony Fernandes claims Caterham's new management team is completely to blame for the problems that threaten the Formula One team's future.
Engavest SA, a group made up of Swiss and Middle Eastern investors, assumed control in July 2014 after Malaysian businessman Fernandes agreed to sell his stake, having founded the group in 2010.
Caterham claimed on Wednesday (22 October) that Fernandes had "refused to comply with [his] legal obligations to transfer [his] shares to the buyer [Engavest]."
On Thursday Engavest insisted that the team remains Fernandes' responsibility.
After tweeting his blunt response to the ongoing situation on Wednesday, Fernandes has officially broken his silence engulfing the Leafield-based group, insisting Engavest's failure to pay "all existing and future creditors" is responsible for the ongoing stand-off.
A statement released on his behalf read:
"We agreed in good faith to sell the shares to a Swiss company named 'Engavest' on the basis that Engavest undertook to pay all of the existing and future creditors, including the staff.

"The continued payment of staff and creditors was so important to me that I ensured that the shares would not be transferred to the new buyers unless they complied with this condition.

"Sadly, Engavest has failed to comply with any of the conditions in the agreement and Caterham Sports Ltd (the UK operating company of the F1 team) has had to be put into administration by the bank, with large sums owing to numerous creditors.

"Our agreement with Engavest was very clear: There was no legal obligation to transfer the shares to them unless certain conditions - which included paying creditors - were met.

"Those conditions have not been met. Our lawyers have asked Engavest several times to comply with these conditions but they have failed to engage.

"If you agree to buy a business, you must pay its bills. They have breached that promise and now, sadly, it is others such as the employees and the fans of the Caterham F1 team that will suffer if the team ceases to race. I sincerely hope that this will not be the case and that a solution can be found."
Earlier this week, Caterham Sports Limited (CLS), a supplier to the F1 team based at the same facility in Leafield, entered administration. After initially suggesting CSL's closure would not directly affect them, Caterham would later state the administrators' appointment had "devastating effects on the F1 Team's activities."
Administrators overseeing CSL confirmed on Thursday that Caterham employees would remain locked out of its facilities until a resolution was met.
"They can't get into the factory today," Finbarr O'Connell, the administrator now in charge of the facility on behalf a creditor, a Malaysian bank, told Reuters. "They [the team] are using my facilities and haven't paid me."
Caterham's cars driven by Kamui Kobayashi and Marcus Ericsson remain locked in the facilities and will not make the weekend deadline to be shipped to the US unless the issue is resolved soon.