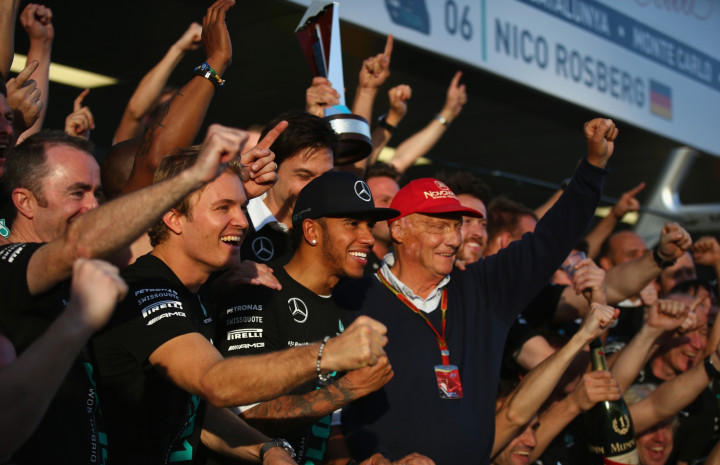 Mercedes director Toto Wolff is expecting there to be no more friction between Lewis Hamilton and Nico Rosberg ahead of their duel for the Drivers' World Championship.
Mercedes' first Constructors' championship was celebrated after a season fraught with tension between its two drivers, who sealed the German team's title in style with a one-two finish in the Russian Grand Prix.
With just three races remaining, Hamilton leads his German teammate by 17 points, 92 clear of Red Bull's Daniel Ricciardo in third with 100 left to play for given Abu Dhabi's double points format.
Only a scenario where the 25-year-old Australian wins all three remaining races and the Mercedes duo fail to finish could feasibly see one of them miss out on the Drivers' championship.
While Wolff is wary of what he described as a worst case "Armageddon Scenario", he insists the tense but respectful relationship between Hamilton and Rosberg has him feeling at ease ahead of the final races of the season in United States, Brazil and Abu Dhabi.
"You cannot expect them to be best friends because that is your enemy," Wolff said, speaking to a group of journalists including IBTimes UK, at the Mercedes AMG factory in Brackley, Northamptonshire.
"But they are treating each other respectively and there is no friction in the relationship; it's tense but I guess we'll see some clean racing until the end of the season. They know Mercedes is one of the largest brands in the world and we cannot accept any hitting each other; we made that clear after Spa where we had such an incident and I think now it should be OK."
The incident at Belgium's Spa Francorchamps, where Rosberg caused his teammate's early retirement in a crash described as "unacceptable" by the Mercedes boss, intensified an already strained relationship in August.
That episode prompted crisis talks between the two drivers, Wolff and Mercedes executive director Paddy Lowe, from which Rosberg accepted full responsibility for the incident.
Wolff added those "clear the air" talks have eased the tension between the two and helped sooth his own anxious nerves on race days.
"Since Spa I feel more comfortable somehow," Wolff said. "We had some good discussions afterwards - for those who don't know what happened, they crashed [into each other] on lap two and in a situation that was completely avoidable.
"We made it very clear after the race that this was completely unacceptable and such a collision is to be avoided under any circumstances. That discussion was so positive that I don't expect it to happen anymore. Since then, [I need] less tranquiliser drops before the race."