Aegis Group Sees Strong Momentum, Bets on Acquisitions
Aegis group, the marketing services company in the areas of media communications and market research, expects the environment to remain competitive but it remains well positioned to make continued progress.
With the positive prospects and momentum achieved over the last 18 months, the group is scheduled to report its full year 2011 results on Thursday.
Aegis' client expenditure level in 2011 is expected to be ahead of 2010. However, medium term visibility continues to be relatively limited and macro-economic uncertainties remain. Consequently, it continues to expect organic revenue growth for the retained group, comprising Aegis Media and Aztec, to be at least in line with the level achieved by the group. This is in spite of more difficult comparatives during the FY 2011.
As a result of ongoing management focus on cost control and efficiencies, and given its expectations for organic revenue growth, Aegis expects the retained group's operating margins to increase from last year.
While commenting on the outlook, Jerry Buhlmann, Chief Executive Officer, said: "We continue to focus on improving our efficiency and on targeting acquisitions in media and digital that extend our products and services and position the business in key geographies, ensuring Aegis remains well placed for the future. In addition, we have completed the disposal of Synovate - this transformational deal makes Aegis a stronger and better placed business than ever before, able to capitalise on the opportunities ahead."
In February, the group announced that it had reached an agreement to acquire the holding company of Roundarch Inc, the U.S. digital agency, for an initial consideration of $125 million (£79 million). The acquisition of Roundarch is in line with Aegis Group's strategy to target acquisitions with a specific focus on digital businesses, North America and faster-growing regions.
The group also announced in January that it has acquired a minority share in the Upper Storey Pte Ltd, an award-winning digital creative agency based in Singapore. TUS will become part of Isobar in Asia Pacific and will be rebranded as TUS Isobar. TUS's gross assets as of 31 October 2011 were £0.5m (S$0.9m).
Brokers' Views:

- Oddo Securities assigns "Hold" rating on the stock
- Numis Securities recommends "Buy" rating with a target price of 209 pence per share
- Panmure Gordon assigns "Buy" rating with a target price of 225 pence per share
- Credit Suisse recommends "Under Perform" rating
Earnings Outlook:

- Oddo Securities estimates the company to report revenues of £1,475 million and £1,244 million for the FY 2011 and FY 2012 respectively with pre-tax profits (pre-except) of £155 million and £183 million. Earnings per share are projected at 9.67 pence for FY 2011 and 11.68 pence for FY 2012.
- Credit Suisse projects the company to record revenues of £1,615 million for the FY 2011 and £1,712 million for the FY 2012 with pre-tax profits (pre-except) of £202 million and £226 million. Profit per share is estimated at 11.92 pence and 13.32 pence for the same periods.
- Numis Securities expects Ageis to earn revenues of £1,121 million for the FY 2011 and £1,259 million for the FY 2012 respectively with pre-tax profits of £155 million and £185 million. EPS is projected at 10.10 pence for FY 2011 and 12.00 pence for FY 2012.
Below is a summary of sector comparisons in terms of price earnings, earnings per share, dividend per share, dividend yields, return on equity and price-to-book ratio. The table explains how the company is performing against its peers/competitors in the sector. The table below represents ten companies based on market capitalisation.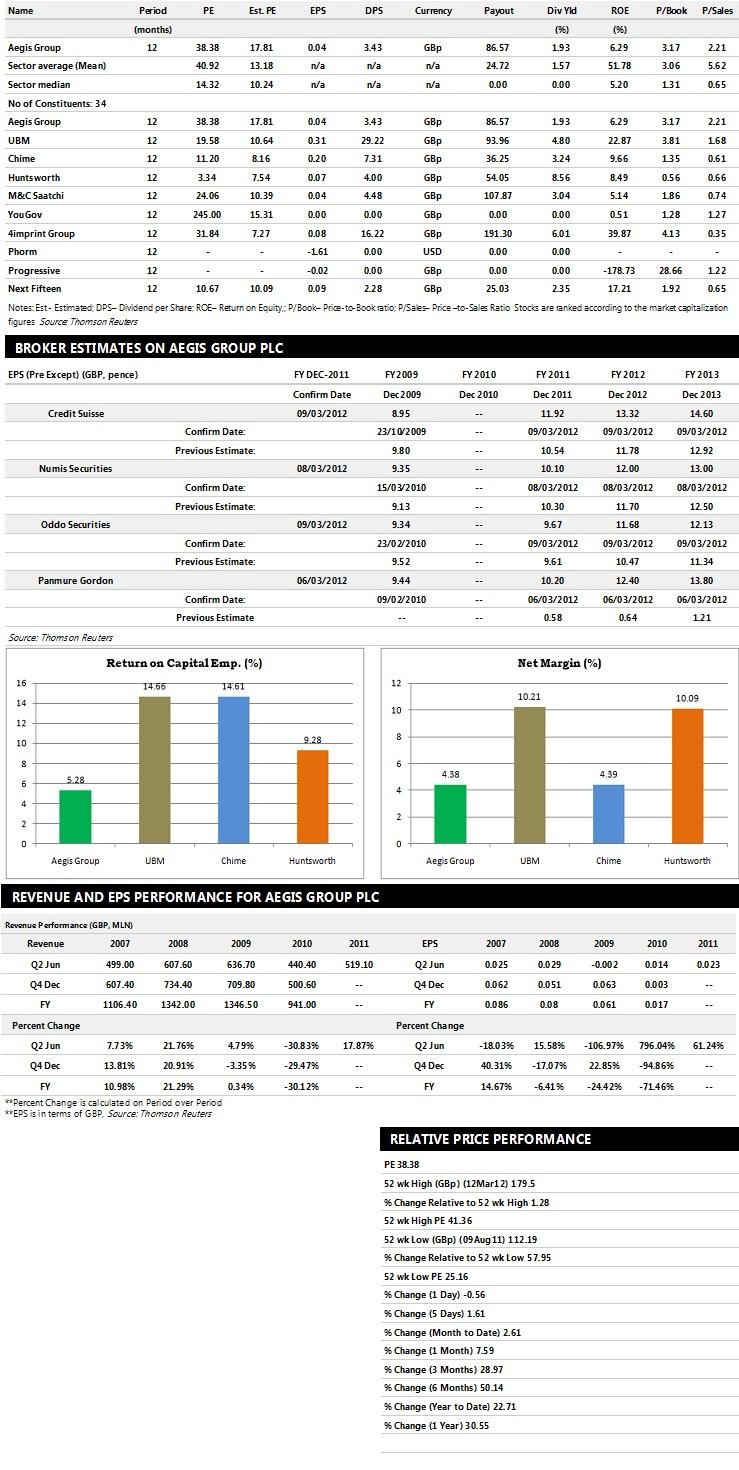 © Copyright IBTimes 2023. All rights reserved.