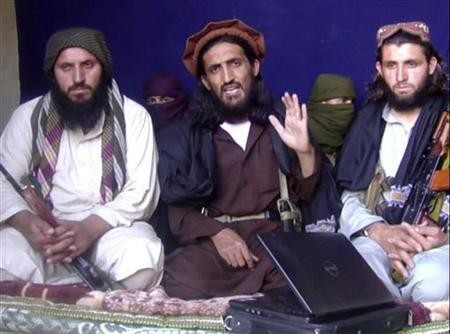 US President Barack Obama is expected to use a prime-time TV address to unveil plans for an initial withdrawal of thousands of US troops from Afghanistan.
Speaking on Wednesday evening, he is expected to say that 30,000 "surge" troops will begin leaving in July - with most gone by 2013, US media say, while the associated press revealed as many as 5,000 troops are expected to withdraw as early as next month.
The US currently has about 100,000 troops in Afghanistan, however the Obama administration is still said to be divided over the size and speed of the pull-out.
Military commanders are thought to want to limit the number of combat troops removed from the country in an effort not to lose ground gained from the Taliban during recent fighting.
Reports of Mr Obama's announcement come after departing US Defence Secretary Robert Gates was forced to confirm Afghan President Hamid Karzai allegations that the US was holding "outreach" talks with members of the Taliban in Afghanistan.
Officially the US military says it would aim to gradually hand over all security operations to Afghan security forces by 2014, however the reality on the ground risks being different.
Earlier this month, Mr Gates anticipated the U.S move when he conceded that "substantial progress" was being made on the ground in Afghanistan but argued that "these gains could be threatened if we do not proceed with the transition to Afghan security lead in a deliberate, organised and co-ordinated manner"
"Even as the United States begins to draw down in the next month, I assured my fellow ministers there will be no rush to the exits on our part."
What remains unclear however is the nature of the "substantial progresses "made by either the Nato or US forces. Attacks by rogue soldiers or police and Taliban infiltrators have increased in frequency and ambition in recent months, say activists. There has been a surge in violent conflict but also drug trafficking. The country is now divided between different Islamist groups and drugs warlords, who all struggle for power and influence.
More worryingly, aid agencies and analysts warn that Afghanistan is still in a state of war and that internal displacement, lack of access to essential health services and civilian casualties are set to rise in 2011 and 2012.
"We are growing increasingly concerned about the conflict, which is into its ninth year. It's spreading and intensifying and we're [likely] to see another year of conflict with dramatic consequences for civilians," Reto Stocker, president of the International Committee of the Red Cross (ICRC) office in Afghanistan, said on 15 December.
Civilian deaths and injuries resulting from the conflict have continued to rise over the past two years and civilian communities have been forced to take sides in the war, the organization explained.
"Mirwais Regional Hospital in Kandahar, serving around four million people, has admitted over 2,650 weapon-related patients so far in 2010, compared with just over 2,110 in 2009," the ICRC said.
While the US insist they will hand over all security operation to the Afghan security forces, they do not explain how an unorganised, corrupt and inefficient regime like the one of Karzai will be able to do what American and Nato forces have failed to achieve in the last ten years.
Many in Afghanistan do not trust their president, and his regime has been rigged by allegations of widespread corruption since ever it was established. Over the years, the Karzai government has been propped up and maintained by the US and its allies who have deployed 150,000 foreign troops, thousands of non-military personnel and billions of dollars spent on security, governance and the reconstruction of Afghanistan.
In these conditions, it is not sure how long the Karzai government will hold on to power once the US pulls out. Taliban fighters have already infiltrated the Afghan security forces several times and just last month, General Mohammad Daud Daud, the police commander for northern Afghanistan, was killed by one of them.
Also, last year the country's biggest bank nearly collapsed and while the Afghan government tried to find funds for a bail out, the IMF has just rejected its proposal.
As long as the IMF declares the plans to be inadequate, many countries, including Britain, are legally barred from pumping money into the government, which might be problematic as the Karzai regime is almost completely reliant on foreign cash to pay civil servants' salaries
Afghanistan is a country in a state of war, violent conflicts and tribal rivalries are a recurrent problem, the frequent Nato bombings also appear to have help hardened the mood and influenced a new surge in radicalism, thousands of people are still internally displace, women are still being flogged and executed and Mullah Omar, who famously escaped American forces on a motorbike, is still in hiding but according to the US the country has been nursed back to health. The Taliban are very likely to become more powerful and more in control of the country, but now that Bin laden, the man the US were after is dead, it seems that the future of Afghanistan has once again become irrelevant