Iraq's Prime Minister Haider al-Abadi met with Donald Trump on 20 March at the White House and the two leaders discussed accelerating efforts to put an end to the Islamic State. Speaking to the press following the meeting, Abadi told reporters that the US president had assured him of increased support in the fight against terrorism.
"We have been given assurances that the support will not only continue but will accelerate," he said during an appearance at the United States Institute of Peace in Washington. "I think this administration wants to be more engaged in fighting terrorism. I sense a difference in terms of being head-to-head with terrorism."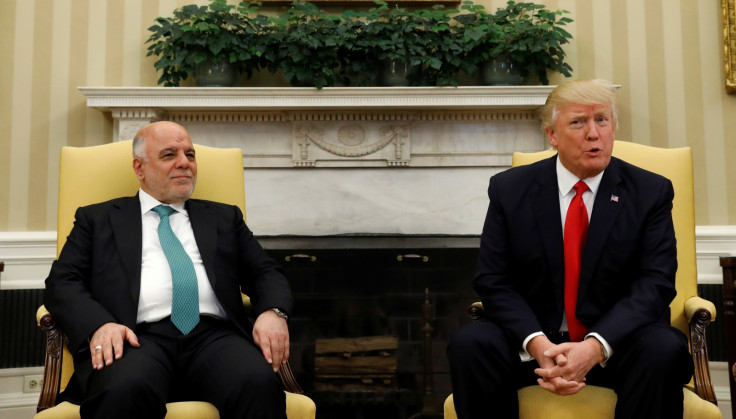 Abadi, the first Arab head of state to meet with President Trump, is in Washington for a 68-nation summit on fighting Isis. He explained that the fight against terrorism required more than muscle. "We are not talking about military confrontation as such. Committing troops is one thing, while fighting terrorism is another thing," he said, urging financial contributions from the international community.
"We (would) love to see more funds so that we can quickly (regain) prosperity and stabilization in these areas," he added, according to Reuters.
Trump on his part, criticised previous administrations for their strategies in dealing with Iraq. "Perhaps we shouldn't have gone in, but certainly we shouldn't have left, we never ever should have left and the vacuum was created," he said during a photo session with Abadi.
The president has flip-flopped on his opinion regarding the US-coalition in Iraq, previously supporting then criticising George W Bush's 2003 invasion. He later criticised President Barack Obama for withdrawing troops from the region and called the whole campaign a "total disaster".
During the meeting on Monday, however, Trump commended the Iraqi soldiers for their hard work. "It's not an easy job. It's a very tough job," he said. "Your soldiers are fighting hard. I know Mosul is moving along. ... We will figure something out.
"Certainly, we shouldn't have left. We should never ever have left," he added. "A vacuum was created, and we discussed what happened."
Abadi's meeting comes as Iraqi forces backed by US troops continue to advance through Mosul as they attempt to drive Isis from Iraq's second largest city.