Trump confidante in US House Intelligence Committee crosshairs over alleged Russian hack links
US intelligence committee confirms its investigation of Russian meddling in US elections.
Roger Stone, a close confidante of president Donald Trump who previously served as an informal adviser during the 2016 US election, is firmly in the crosshairs of the US intelligence committee for alleged links to a Russian hacking campaign.
The committee, currently probing how Kremlin-linked adversaries targeted the US Democratic Party, highlighted in a testimony on 20 March a number of suspicious links between Stone, the whistleblowing platform WikiLeaks and Guccifer 2.0, a suspected Russian front.
The US intelligence community has said that Guccifer 2.0, which also pushed out stolen documents to journalists, is only one part of a complex scheme which saw Russian intelligence hack documents and submit the contents to WikiLeaks for release.
During the testimony, ranking Democrat Adam Schiff noted that Stone showed a "remarkable prescience" by being aware of some leaks before their publication.
To back up his point, Schiff used Stone's own Twitter account against him.
"In August, Stone does something truly remarkable when he predicts that John Podesta's personal emails will soon be published" Schiff stated. Sure enough, Stone appeared to reference the initial leak of emails of John Podesta, a close Hillary Clinton aide before anyone else.
"Trust me, it will soon be Podesta's time in the barrel," he warned on 27 August. It was the next month, on 7 October, when WikiLeaks then started to publish thousands of emails hacked from Podesta's email inbox, which appeared in batches nearly every day until the election.
Later, Stone tweeted: "I have total confidence that WikiLeaks and my hero Julian Assange will educate the American people soon." Around the same time, in October last year, then-president elect Donald Trump proclaimed on the campaign trail: "I love WikiLeaks."
Rhetorically, Schiff said: "Is it coincidence that Roger Stone predicted that John Podesta would be a victim of a Russian hack and have his private emails published, and did so even before Mr Podesta himself was fully aware that his private emails would be exposed?"
Podesta has said publicly it is a "reasonable assumption" that Stone had advance warning of the publications. Assange's website, however, said after the hearing: "WikiLeaks publicly and repeatedly teased its forthcoming publications well before [Roger Stone's] comments."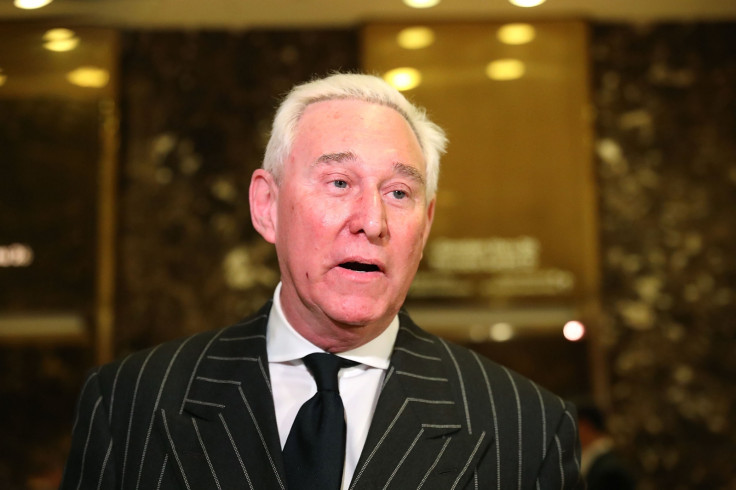 Further evidence that Stone is of interest to the US government was released last week as The New York Times (NYT) reported that he had received a formal request to "preserve and retain" all hard copies and electronic messages he had about his alleged links with Russia.
This was demanded after Stone admitted to having a number of "exchanges" with the mysterious Guccifer 2.0, who initial posed as a lone-wolf hacker before at least three separate cybersecurity firms concluded it was highly likely to be an account managed by the Russians.
Stone told the NYT he will welcome future hearings. "I am willing to appear voluntarily if the committee isn't looking for the headline of issuing a subpoena," he said.
Just after the intelligence committee hearing, he tweeted: "It's only fair that I have a chance to respond [to] any smears or half truths about alleged 'collusion with Russians.'"
Comey: 'FBI investigating'
The hearing was most noteworthy for the statements from FBI James Comey, who confirmed his agency has probes underway into alleged Russian election meddling.
"I have been authorised by the Department of Justice to confirm that the FBI, as part of our counter-intelligence mission, is investing the Russian government's efforts to interfere in the 2016 presidential election," he said during Monday's appearance.
He said the investigation will look into "any coordination between the [Trump] campaign and Russia's efforts" and also an "assessment of whether any crimes were committed."
© Copyright IBTimes 2023. All rights reserved.