Iraqi government forces say they have killed the Isis commander of Mosul's Old City as they attempt to regain a key bridge crossing the Tigris River.
The battle against the militants' in their last major stronghold in Iraq has intensified in recent weeks as Iraqi forces and their allies try to banish the jihadists from the western part of the city.
Iraqi federal police say they killed Abu Abdul Rahman al-Ansary on Tuesday (14 March) as they recaptured neighbourhoods under shelling and heavy machinegun fire.
The troops are now said to be within 100m (330 ft) of the Iron Bridge linking west and east Mosul, but operating in the shadow of Isis snipers.
"We are still moving toward the Iron Bridge. We are taking out snipers hiding in the surrounding building, we are still pushing for the Iron Bridge," Brig. Gen Mahdi Abbas Abdullah of the Rapid Response unit told Reuters.
Al-Ansary was killed during operations to clear Bab al-Tob district, a federal police officer said and comes as a major blow to the jihadists whose area has shrunk rapidly since Isis lost the eastern half of the city in January.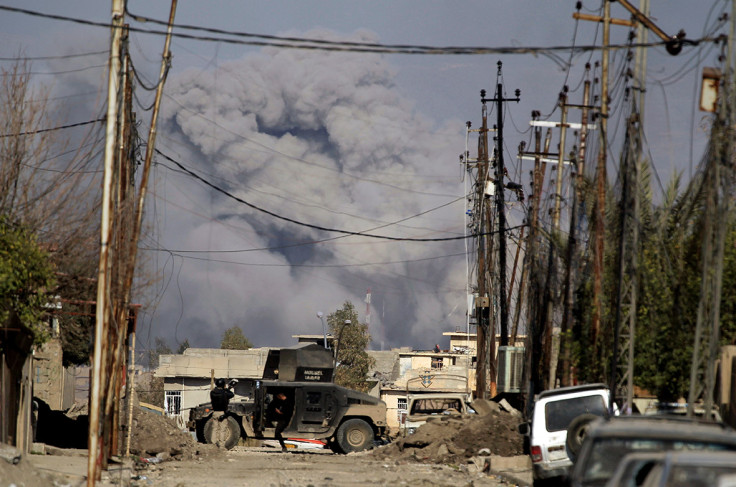 The Iron Bridge is one of three of five bridges still held by Isis in Mosul after others were destroyed by air strikes or by the militants themselves.
The Iraqi army is backed by US-led western airstrikes, Kurdish fighters, Iran-backed Shiite Muslim militias and some allied forces began the operation to take back Mosul in October 2016.
Since starting the offensive Iraqi forces have retaken eastern Mosul and about 30% of the west of the city.
"It's very key for our forces to secure the riverside and prevent Daesh militants from turning around our advancing forces," a Rapid Response spokesman said.
In the past four weeks the United Nations (UN) say that a reported 50,000 civilians have fled the besieged city amid the threat of Isis sniper fire.
And on Sunday (12 March) envoy for the Global Coalition to counter Isis, Brett McGurk, said Isis militants trapped in west Mosul are "going to die there".
Speaking in Baghdad McGurk said: "Isis is trapped. ... Any of the fighters left in Mosul, they're going to die there. So we are very committed to not just defeating them in Mosul, but making sure these guys cannot escape."