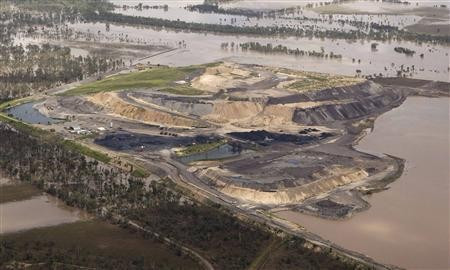 A prominent headline on the front page of the Brisbane Courier-Mail reads:
FLOOD RELIEF APPEAL
Australia Unites
Donate Now
Nearly every year in Europe and the USA, newspapers and the TV news broadcasts will carry an article on some natural disaster that has hit Australia:. Somewhere or other, I have a cut out of a giant cloud of smoke behind and above the Sydney Harbour Bridge after bush fires had penetrated some of that city's northern suburbs some years back. Other such events that come to mind are reported droughts and dust storms, plagues of locusts eating crops, flooding and the bush and forest fires that raged around Melbourne.
Given that Australia is a very large country, in the main these catastrophes have been relatively local and the authorities have managed to contain the damage without much disruption to the country as a whole or even other parts of the same state. This time things look very different. The flooding in Queensland appears to be on a biblical scale and dozens of towns and communities have been inundated and thousands have lost their homes and possessions.
Tragic that any life should be lost, it is fortunate that so far at least, the number of reported deaths is very small. That's the good news and considering that the area affected by the flooding is in extent the size of France and Germany combined, so few fatalities is little short of a miracle.
Alleviating the distress of those harmed by the flooding is not the only problem that will need to be tackled by the authorities. Both short and long term consequences will have to be addressed by municipal, State and Federal bodies now and likely for several years to come.
The large Queensland town of Rockhampton on the Fitzroy River with some 77,000 people has probably received most attention from the world's media. It is certainly a major service, industrial and communications centre of Central Queensland and the largest town directly and so badly affected to date. It is easy to forget, or be unaware, that is is but one of dozens.
Typically, towns in this part of Queensland will list economic activities something like this:
(Coal) mining - open cut, power generation, agriculture, beef and pork production, dairying and milk processing, food processing, timber growing and milling.
Very few will do all the above but hundreds of square miles of farm land has been flooded and the number of cattle destroyed - Rockhampton is a major beef cattle centre - is as yet unknown but likely to be considerable.
Alarm is being expressed at the flooding or very real threat of flooding, to Queensland's coal mines along with the power stations they supply. About 40 large operations are currently in this situation. The Stanwell Power Station is very close to Rockhampton. Coal-fired, it has a generating capacity of 1,400 megawatts, the power entering the Queensland high voltage electricity grid at Stanwell switch yard.
The 1,680 megawatt Gladstone Power Station is Queensland's largest coal-fired power plant producing 15 per cent of the State's electricity requirements. Its coal is supplied by rail from the Curragh mines about 120 miles west of Rockhampton and presently, mine and rail link are badly affected by the flooding. Amongst other coal-fired power stations badly affected is Tarong - 1,400 megawatts capacity. (As a comparison, Ferrybridge in West Yorkshire has a capacity of 2,000 megawatts).
A report in the Sydney Morning Herald on 09 January 2011 has reported that due to the coal mines being so badly affected, the Port of Gladstone is stopping all exports of coal and Queensland's largest coal terminal at Dalrymple Bay, south of Mackay, is running at just 60 per cent of capacity. The article goes on to say that Queensland exports some A$100 million of coal per day and the Queensland State Budget benefits to the tune of A$3.2 billion annually in royalties.
Mark Pervan of ANZ Bank in Melbourne, told the Sydney Morning Herald that presently, Queensland is losing A$480 million per week in export earnings and went on to say: "About 160 million metric tonnes of annual coal production have been halted under contract clauses, equivalent to 41 per cent of the world's export coking coal supply and eight per cent of global export thermal supply."
Queensland's Premier, Anna Bligh, thinks that the bill for the disaster exceeds A$5 billion - a very large sum for a state with just 4.5 million people.
On 10 January 2011, Queensland's Disaster Relief Appeal had raised A$30 million including over A$10 million in pledges by Channel Nine's telethon appeal. Almost at the same time, Queensland's Bureau of Meteorology reported that more than 50mm of rain had fallen over an area between Gympie on the Mary River and Brisbane - 100 miles - on 09 January 2011 in the space of an hour. Time to organise another appeal!