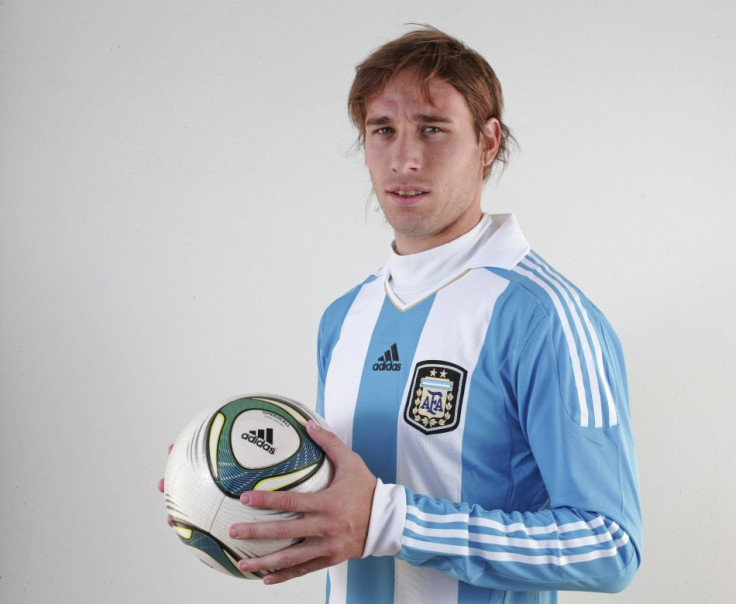 Arsenal and Manchester United are both interested in the hugely talented Anderlecht midfielder Lucas Biglia according to the Argentine's outspoken agent.
The 25-year-old has been perennially linked with a move to the Premier League, with Arsenal and Manchester United amongst his perpetually reported admirers, for the best part of 18-months following a string of impressive displays for the aforementioned Belgian club.
Capped six times by Argentina, the 25-year-old is one of the finest players in the Belgium Premier League and Arsenal's Arsene Wenger and Manchester United's Sir Alex Ferguson have both had the abundantly gifted playmaker watched on several occasions this season.
The perceived midfield weakness of Manchester United, exasperated by the retirement of Paul Scholes in the summer, has led to a host of names being linked with a move to Old Trafford, while the departures of Cesc Fabregas and Samir Nasri has seemingly opened up a potential creative berth in the heart of Wenger's midfield.
Despite the relatively modest reputation of Biglia, when compared to the likes of Wesley Sneijder, Luka Modric and Mario Götze, the player's agent, Enzo Montepaone, has publicly claimed both Manchester United and Arsenal are leading the chase for the evidently capable Argentine.
"Fiorentina, Arsenal and Manchester United? The interest of those clubs is real," Montepaone told Het Nieuwsblad. "If everything goes to wish, Lucas will be back in Brussels on 2nd of January. He will start training then and will be ready for the Europa League-game against AZ.
"It's right that those (Fiorentina, Arsenal and Manchester United ) clubs are interested. From the moment he came to Anderlecht it was the plan to grow as a player. Now is the moment for him to go to a big club.
"He can earn double his salary at another club. He will not leave Anderlecht for another European sub-top club. That's why we were not interested in the offer of Atletico Madrid."
Sir Alex Ferguson and Arsene Wenger are notoriously coy about publicly commenting on potential transfer targets for Manchester United and Arsenal respectively, but the duo continue to be linked with a variety of players.
Ferguson recently intimated Manchester United would only be active in January if a long term target became available, while Wenger has hinted he may look to bring in a striker and a fullback in order to alleviate Arsenal's injury problems and pending absences from the African Nations Cup.
Despite that, Montepaone suggests both Manchester United and Arsenal are tracking the player and even went as far as revealing the player's potential transfer fee.
"Big clubs know that there isn't much changed in their midfield line. They are searching for new blood. Biglia is a potential elite player," Montepaone added.
"From Anderlecht point of view he doesn't have to leave, because Lucas has a contract until 2015. If it depends on Anderlecht he will be staying in Brussels. The minimum [transfer fee] is €8 million. We still have until 1st of February." Montepaone suggested when discussing the reputed Manchester United and Arsenal target.