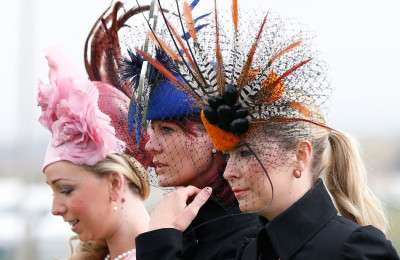 Thousands of women upped their fashion quotient on 13 April, 2012 during the Aintree Ladies Day in Liverpool, Northern England.
From shocking shades like bright pinks and turquoise blues to killer heels and bizarre fascinators; the glamorous ladies increased the fashion stakes at the event. The Ladies' Day was the day two of the Grand National meeting at Aintree celebrating women's fashion.
The flamboyant display of outlandish hats and brightly coloured dresses were not only restricted to natives and general public as the event attracted some celebrity names as well.
Included in the list of celebrities was WAG queen Coleen Rooney dressed in a black and white skater style number with a floral print by celebrity designer Philip Armstrong. She paired the outfit with a pair of black Christian Louboutin heels.
Not to be outdone in the style race was Danielle Lloyd who showed off a black fascinator. She wore an emerald green dress with a feathered black hat and high black heels for the event. Apart from this, former Emmerdale actress Roxanne Pallet arrived in a nude dress, heels and bag.
The Grand National is a popular National Hunt horse race which is held annually at Aintree Racecourse. Since 1839, the race has been held at Aintree each year with the exception of 1916-1918 during the First World War when it was held at Gatwick Racecourse, 1941-1945 during the Second World War when it was called off, and in 1993 when the race was declared void owing to a false start.
The Grand National is run over the National Course at Aintree and consists of two circuits of sixteen fences, the first fourteen of which are jumped twice. Participating horses cover a distance of four miles and four furlongs, the longest of any National Hunt race in Britain. The course is also notable for having one of the longest run-ins from the final fence of any steeplechase, at 494 yards.
Start the slideshow to get a glimpse of the stunning ladies in flamboyant dresses and high fashion at the 2012 Aintree Ladies Day: