Spain: Airbus A400M military plane crashed because its engine software was incorrectly installed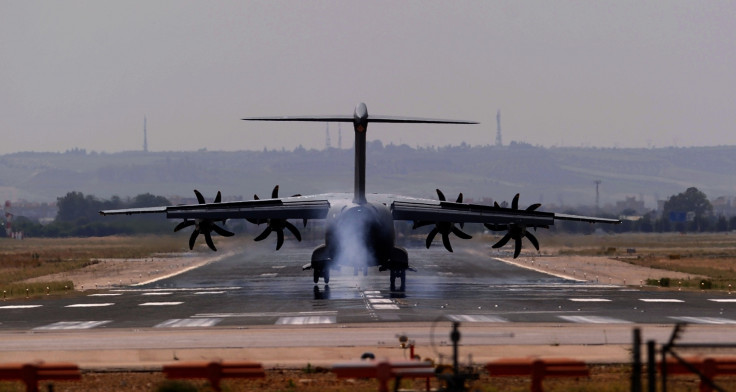 French aerospace company Airbus has confirmed that the A400M military transport plane that crashed in Spain in May 2015, killing four, might have been downed by incorrectly installed software.
The A400M military plane was carrying six people on its first flight on 9 May when it crashed into a field near Seville in southern Spain, catching fire upon impact.
"The black boxes attest to that. There are no structural defects, but we have a serious quality problem in the final assembly," Marwan Lahoud, chief marketing and strategy officer for Airbus, told German newspaper Handelsblatt.
Skipping safety protocols during final assembly
Airbus examined the plane's flight recorder and found that several safety protocols were ignored during the plane's final assembly, which meant that the Full Authority Digital Engine Control (FADEC) software was improperly configured when the engines were installed on the aircraft.
Initially on 19 May, Airbus had issued a warning to its customers that there was a potential problem with the engine control software in the A400M, but the new findings mean that Airbus won't have to completely redesign the A400M's engines, which are the largest turboprop engines ever manufactured in Europe.
"Someone did not check the operation of the FADEC well and should have checked in the simulator that everything worked correctly before take-off," a source in the aerospace industry told Spanish newspaper El Confidencial.
"Many protocols were skipped. If the plane's engine had been run at high speed on land prior to the first flight, the engines would have been paralysed before the aircraft took off on its first flight. It was all rushed."
Overworked staff, spread too thin
On 11 May, El Confidencial reported that staff at the Airbus factory in Seville were too few and being overworked due to pressure from Germany to deliver on time the promised A400M planes it had ordered.
Many crucial aerospace engineers in the firm are spread across Europe and have to hop between Airbus factories in Seville, Hamburg and Toulouse, when they should be dedicated to just one factory.
El Confidencial confirmed that Airbus Spain has now decided to centralise manufacturing for the A400M in Seville.
There could however be many reasons why the plane crashed, Airbus has said.
"We will need the full results of the investigation in order to have the full picture, so as long as there is no further communications from (the investigating authority) CITAAM it is too early to draw any conclusions from the accident," Airbus told AFP on 2 June.
"Like all accidents, it will certainly be a combination of issues and not one single cause."
© Copyright IBTimes 2023. All rights reserved.