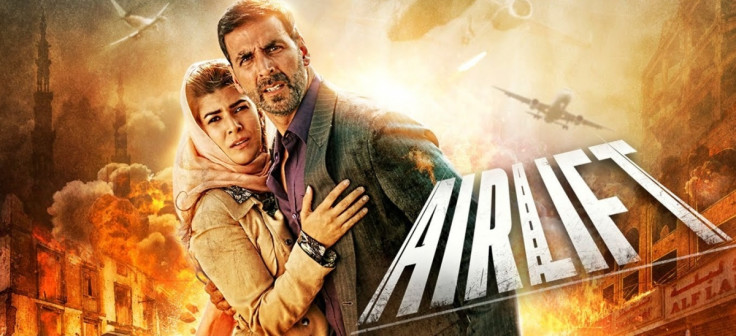 Let me start by saying that Airlift has one of the best patriotic sequences ever seen in an Indian film. I won't spoil the moment for you – it's a flag-hoisting scene which comes towards the end and it is beautifully executed.
Films are basically meant to entertain, but every once in a while we get treated to a movie which doesn't just entertain, but also engages its audience. Airlift is one such film. It transports you into a different world, a different time and gives you a first class account of human triumph and victory against all odds. Kudos to director Raja Krishna Menon for bringing to life the extraordinary true story of the largest human evacuation operation ever carried out in history. If you're a fan of movies like Argo and Hotel Rwanda, you're going to love this one.
In August 1990, Ranjit Katyal (Akshay Kumar) – a shrewd, calculating and successful businessman based in Kuwait – is awoken in the middle of the night to news of Saddam Hussain's brutal Iraqi forces launching a massive attack on the city he is living in.
Katyal, who considered himself more of a Kuwaiti than Indian, soon discovers that the local government and members of the Indian embassy in Kuwait have fled; leaving hordes of Indians (about 1.7 lakhs) in the city abandoned and without any hope. After seeing the plight and pathos of his fellow countrymen in the war-torn foreign country, Ranjit takes it upon himself to ensure their safety and security.
The film takes its time to establish the situations and various characters over the first 30 minutes of the film. The plot moves at a steady pace, but it's important as it helps the audience to fully invest themselves in the film. Airlift is an honest, sincere and realistic attempt to showcase a real-life account and thankfully it does not succumb to any of the annoying and overdone Bollywood gimmicks.
Kumar seems to making a habit out of delivering sensible and impressive performances (with films like Baby and Special 26) alongside his usual Bollywood buffoonery (Singh is Bling). He is amazing as the messiah/self-centred businessman-turned Good Samaritan in Airlift. His character's transformation is superbly written and handled. And I think the credit jointly goes to Kumar and his director. Ranjit Katyal is a hero who is human – he makes mistakes, falters, loses hope… but rises to the occasion every single time and takes charge. Kumar does complete justice to the incredible character and delivers a perfectly balanced and nuanced performance.
Among the other actors, Prakash Belawadi, stands out as the cynical and annoying refugee who can't stop complaining. Nimrat Kaur, as Ranjit's wife, looks gorgeous (but not out of place) and plays the perfect supporting role to Kumar's character. Her apt on-screen pairing with Kumar also proves the relevance of right casting in a film. The relationship and dynamics between their respective characters would not have had the same impact had the makers cast a young 20-year old Bollywood star opposite the actor.
The other very wonderful role belongs to actor Kumud Mishra, who plays Kohli – an Indian government official in Delhi who comes in contact with Ranjit. Kohli is laidback and hesitant to help at first but gradually becomes the unsung hero of the story.
Here's a little bit about the story this film is based on along with a post about the man Kumar's role is inspired from.
According to Airlift director Raja Krishna Menon, his research told him that two men – Sunny Mathews and Vedi – had formed an unofficial committee at that time, and carried out the rescue work. In fact, Akshay Kumar's character in the film, Ranjit Katyal, though fictional, is an amalgamation of the two men, he said.
A day before the film's release, the granddaughter of Sunny Mathews wrote an emotional post about her grandfather, remembering him as an inspirational icon.