Aishwarya Rai Bachchan wowed hundreds of people in Dubai who had gathered to catch a glimpse of the Bollywood celebrity.
The 40-year-old actress was at Al Qusais, UAE, for the store opening of Kalyan Jewellers, of which Bachchan is the national brand ambassador.
Kalyan Jewellers is one of the leading jewellery retailers of India and Al Qusais is the company's 55th showroom. It also opened five other stores in the UAE simultaneously which is said to be a record for an Indian jewellery retailer.
The other showrooms were opened in Abu Dhabi, Bur Dubai, Meena Bazaar, Al Karama and Sharjah, though Bachchan attended only the opening of the Al Qusais store.
The former Miss World wore a red and golden velvet "churidar" suit with a netted dupatta (stole) and accessorised herself with heavy gold jewellery. The stunner looked elegantly beautiful in her ensemble as she let down her brunette locks loose in soft curls.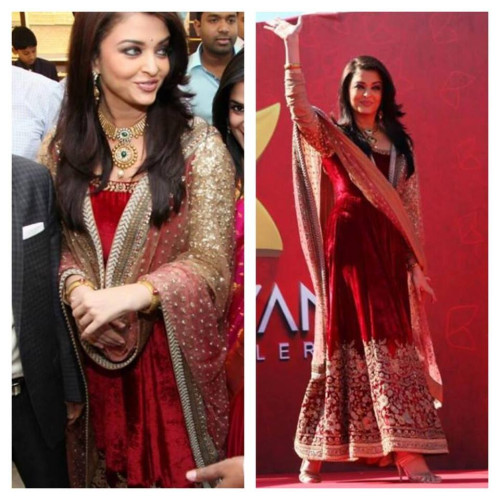 "Thank you for being patient. I thank you with all my love. I personally thank you for your blessings, good wishes and love for me, my husband, my daughter and my entire family," Bachchan told her fans outside the showroom.
She was accompanied by Manju Warrier, an actress from south India's film industry.
The jeweller's Bur Dubai store was inaugurated by Bachchan's father-in-law and Bollywood's veteran actor, Amitabh Bachchan, who is also a brand ambassador of Kalyan Jewellers. Dressed in a blue velvet jacket, Bachchan was accompanied by south Indian film actor Nagarjuna.
"Every time I come to Dubai, I find your love and affection overwhelming. Hope your love for me and my family continues," Amitabh Bachchan said and sang a title song of his 1976 film Kabhie Kabhie on the crowd's demand.
All the six new stores of the jewellery giant will stock more than thousands of designs in gold and diamond jewellery handpicked from different parts of India and abroad.
Here is a look at latest jewellery campaigns featuring Aishwarya Rai Bachchan.