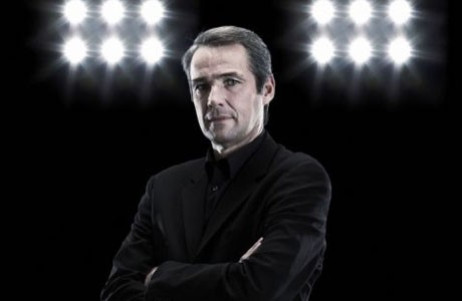 Following the retirement of Alex Ferguson, the sacking of Roberto Mancini and the expected return of 'the Special One' Jose Mourinho, the Premier League appears to be going through a bit of a make-over before next season.
But it is not just the clubs which are shaking things up and bringing in some fresh blood; the broadcasters appear similarly keen to overhaul their squads and bring some younger talent into the starting lineup.
It has recently emerged that veteran Match of the Day pundit Alan Hansen will not be returning to the programme after his current contract expires at the end of the 2014 World Cup in Brazil.
Along with the upcoming departure of Colin Murray, it seems the BBC are taking note that, while other football programmes have moved on, MOTD's 'tried and tested' formula has become boring and predictable.
Hansen, who will be 59 by the time his contract runs out, has been a pundit on the BBC's staple football highlights show for the past 20 years. Not extending his contract after next season looks to be the first step in the BBC's much-needed attempt to shake off the "dinosaur football" tag that has followed its flagship football programme in recent years.
It is not just Hansen's age and longevity with which viewers have a problem. His analysis has come under fierce scrutiny, with complaints that his punditry does little more than point out the blindingly obvious and describe a team's defence as either "shocking" or "diabolical".
This criticism was intensified when it emerged that, at one stage, Hansen was earning £1.5m a year for his one-day-a-week role - a figure which has since been reduced to a mere £1m.
But he is not the only one of the current MOTD regulars to receive the hairdyer treatment from viewers.
Alan Shearer is often slated for his banal observations and lack of charisma, as well as not knowing basic facts about footballers on several occasions. His clanger that "no one really knows a great deal" about former French prodigy Hatem Ben Arfa perhaps the most cringeworthy faux pas in recent times.
Mark Lawrenson, on the other hand, has all the on-camera presence of a man who was forced to play football as a child by his pushy parents and has resented the game ever since.
MOTD has become an institution on the BBC, having been English football's main highlight show since 1964. But in the same way Sky Sports have revolutionised the way football fans watch the game, it is now changing the face of punditry.
Compare any episode of MOTD to one hour of Gary Neville's in-depth analysis for Sky, a forensic appraisal of player positions and movement underpinned by razor-sharp technology, and you can see the BBC is struggling.
The BBC even appeared to have a 'if you can't beat them, join them' mentality by approaching the former United defender's younger brother Phil to join the team on a three-year contract to replace Hansen.
It is understood the Everton captain, who recently announced he is to retire from playing at the end of the season, rejected the deal.
With Sky also obtaining the services of Jamie Carragher following his retirement, you'd imagine the BBC will follow suit by seeking more former footballers in their 30s to replace Hansen, in order to give the show a much-needed injection of energy, and stop its rivals having the monopoly on younger presenters.
It seems Hansen's infamous quote "you can't win anything with kids" could come back to haunt him yet again.