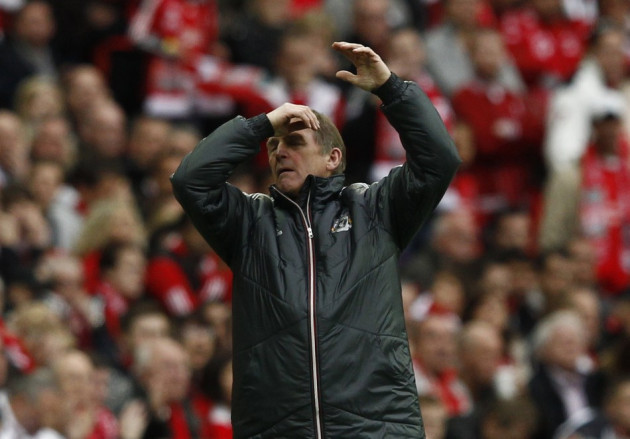 Liverpool legend Alan Hansen believes Kenny Dalglish's departure could precipitate an exodus of the club's best players.
Dalglish was sacked as manager on Wednesday after leading the Reds to eighth in the Premier League, their lowest league finish for 18 years.
The Scot travelled to Boston on Monday in the wake of Liverpool's 1-0 defeat to Swansea on the final day, a move provoked by the lack of assurances over his long-term future at the club after the cup final defeat to Chelsea on 5 May.
The 61-year-old outlined plans to improve the squad for a top-four finish next season and defended his reign to date during the meeting with Henry and Werner, but Liverpool's owners were unconvinced they could achieve Champions League qualification under the Scot's leadership.
And despite leading Liverpool to victory in the Carling Cup and to the final of the FA Cup he was informed of the club's decision by John W. Henry, Liverpool's principal owner and the chairman, Tom Werner, as he prepared to go on holiday on Wednesday.
A Liverpool club statement confirmed: "After a careful and deliberative review of the season, the club came to the decision that a change was appropriate. It is not a decision that was reached lightly or hastily. The search for a new manager will begin immediately."
And BBC pundit Hansen, who played alongside Dalglish at Liverpool during the 1980s, cautioned the manager's exit could prompt a number of players to reconsider their futures at Anfield.
"Until the last couple of days, I do not think anyone saw this coming because there was a feeling that Kenny had done enough to earn another year," Hansen told the Telegraph.
"If the owners had backed him and allowed him to bring in a couple of players in, then Kenny would have been confident in being able to progress the team.
"But my concern is that Liverpool will face a problem in keeping hold of their best players now that Kenny has gone. In my opinion, the likes of Luis Suárez, Pepe Reina, Martin Skrtel and Daniel Agger would be more likely to stay at the club under Kenny Dalglish than anybody else.
"Throughout last season, it was clear that the players were 100 per cent behind Kenny and, when a manager goes, it always leads to uncertainty and confusion."
Andre Villas-Boas, the former Chelsea manager, Jürgen Klopp of Borussia Dortmund and Marseille's Didier Deschamps have all been linked to the role and FSG acknowledged that the search for a new manager would begin immediately.
"The owners now have to quickly find a new man and go about identifying new players and keeping those already there because the new season is only 10 weeks away," said Hansen.
"In making the change, Liverpool's owners have set the bar high for whoever comes in by making it clear that they are determined to get the club back into the Champions League.
"Kenny has a trophy this season and finished eighth, so what will happen in 12 months' time if the new man finishes seventh and wins nothing?"
FSG are expected to make significant funds available for the new manager but the club face considerable costs for removing Dalglish after only 16 months in charge. Steve Clarke, Dalglish's assistant, has also left the club and Liverpool are now without a manager, assistant manager, director of football, head of sports science and head of communications, following the departures of Damien Comolli, Dr Peter Brukner and Ian Cotton from Anfield in recent weeks.
"Liverpool are now looking for their fourth manager in two years, with Kenny following Roy Hodgson and Rafael Benítez in leaving the club, so they have to be careful," added Hansen.
"If you are looking for stability, then you cannot find that by changing key personnel on a regular basis.
"Kenny will regret not getting the club back into the Champions League, but when he reflects on his second spell as manager, he will look back on a time when he steadied the ship and brought success back by ending their long wait for a trophy."