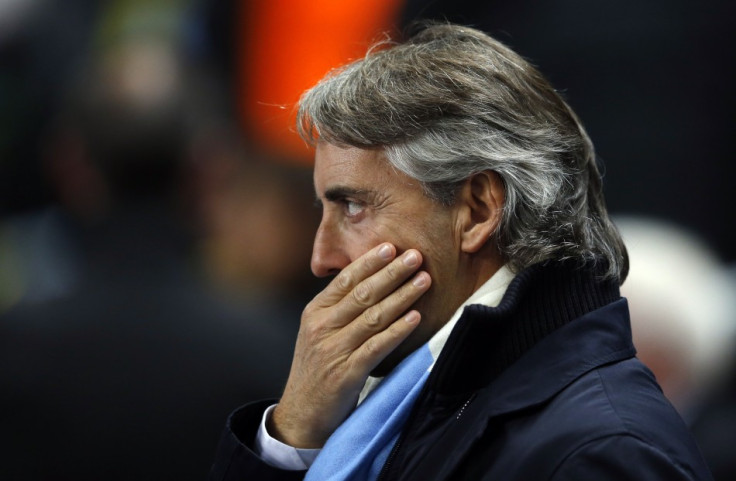 Alan Hansen has argued that Roberto Mancini's failings in the transfer market in the summer, coupled with his admission that he considered leaving Manchester City and a series of disappointing European performances, have left the side in a difficult position as they attempt to repeat the Premier League victories of last season and make an impression in the Champions League.
City are currently third in the league table, and are two points behind now-leaders Manchester United. But the side's goal difference is looking very different to last season, as they struggle to recapture the brilliant form which culminated in them hammering their cross-town rivals United 6-1 a year ago.
And after Mancini admitted that talks had taken place over a possible move to Monaco, Hansen has argued that this coupled with transfer failings has left the club looking less likely to keep their Premier League trophy as the season continues.
"Last summer already has the look of a missed opportunity, and that failure in the transfer market has been exposed much more in Europe," he wrote in the Telegraph. "Instead of riding the crest of a wave of positivity, everything you hear coming out of the club is negative, and it begins with the manager.
"The next time Mancini hears a rival club are interested in his services, he should pause for thought and ask himself if he will ever have a better job than he has right now. I'd suggest there is no football job in the world more attractive than being manager of Manchester City."
Hansen believes that City's owners will be looking very closely at their European progress as they evaluate Mancini's efforts this season, with the Italian in serious danger if he doesn't very quickly pick up his game.
"Last year's Premier League title was never going to be perceived by those at the top of the club as the pinnacle of their success, but more a major step on their path to being the biggest and best side in Europe," he explained. "It's a journey they look as far away from completing now as they did a year ago.
"Whether he has signed a long-term contract or not, Mancini must prove he has the ability to make progress quickly in Europe or I suspect City will start looking for someone they believe can."
City face Ajax in the Champions League tomorrow night, and will be looking to get their first win in the tournament this season, particularly with the game taking place at Etihad Stadium.