Newcastle United manager Alan Pardew admits he dared to dream of the Europa League last four before Eduardo Silvio's late goal sent Benfica through to the semi-final after an aggregate win at St James' Park.
Papiss Cisse's header with 19 minutes left gave The Magpies hope of becoming only the third team in the tournament's history to overturn a two-goal deficit after their 3-1 defeat in Portugal a week ago.
But after Hatem Ben Arfa smashed over, Newcastle were caught on the break as substitute Rodrigo fed Silvio to send the Portuguese league leaders through to the last four after a 4-2 aggregate win.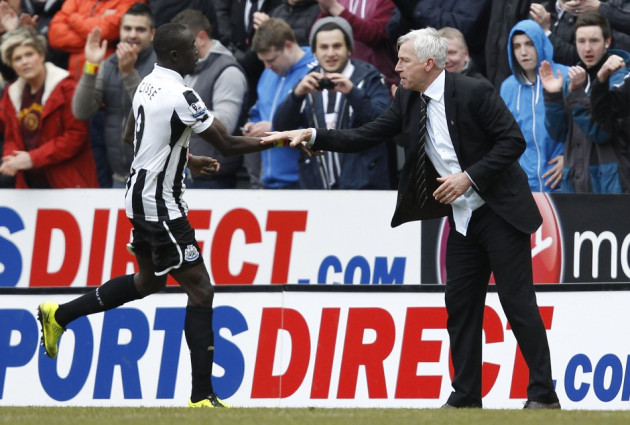 "The fact that Benfica were really having a problem with us yeah I probably did [believe], I honestly felt we were get that second goal and we were so unlucky," Pardew admitted.
"I think the pass from Hatem to Papiss in the box was about an inch out and the shot he just got a bit under it and it was those fine margins that made the difference.
"We nearly pulled it of, when Hatem cut inside in the box I thought that was it, that was our moment unfortunately he got too much on it but it's been a fantastic effort from the whole club. I'm proud tonight."
The Toon's run to the last eight had been bathed in dramatic late goals, while Pardew has continued to field strong sides despite the club's plight in the Premier League where they lie just five points adrift of the relegation zone.
Newcastle face local rivals and fellow strugglers Sunderland on Sunday in a crunch Tyne-wear derby and Pardew, despite setting bold targets for next season with his club's top flight status yet to be assured, is confident his side won't be leg-weary come the weekend.
"We've gained experience from this run," Partdew added. "We've been out of Europe for a while, the only way you get more of it is to get in Europe again and that will be our main aim next season for sure and we've got squad of players that can do that.
"Our next target [this season] will be to try and secure a top ten finish. I've had to take this season as a real learning curve for us, next time we go into Europe we need to be better prepared.
"No accusation can be made that we protected ourselves for Sunderland. We had a game plan to make sure we didn't get hurt in that first half. We didn't have much threat going the other way. We couldn't do what we did in the second half for the whole game and then play Sunderland."