Earlier this week, the Russian state-owned Rosneft walked away from the giant Point Thomson natural gas project in Alaska. It had been suggested that Rosneft would purchase a share in the field from Exxon Mobil.
However, issued on the same day, the US slapped sanctions on the oil giant, having previously placed visa and financial restrictions on the company's CEO, Igor Sechin - a close ally of Russian premier Vladimir Putin.
The world's largest oil producer had suggested that it would double its oil and gas production over the next two decades, but its future relationships with western oil majors are now in question.
It holds strategic partnerships with the likes of Exxon Mobil and BP (which is also a shareholder) and had continued to actively pursue projects and energy deals with these partners up until very recently.
In June it signed a deal mooted to be worth $1.5bn (£883m, €1.1bn) with BP for the delivery of oil products for five years.
On 23 July, however an Exxon spokesperson confirmed that Rosneft would not be taking up an option on the Alaskan gas field, which is estimated to hold 8 trillion cubic feet of natural gas.
"Rosneft had evaluated the opportunity, and elected not to participate," said Kimberly Jordan.
Analysts are expecting Rosneft now to diversify its project base in Russian-friendly states and to redouble its efforts to tap abundant reserves on Russian territory.
"Sanctions will likely result in Rosneft scaling back any investment in the US and EU. I'd expect to see Rosneft making investment in more Russian friendly jurisdictions," Dougie Youngson, research director for oil and gas at Finncap, an advisory firm, told IBTimes UK.
His view is backed up by Mike Jakeman, commodities editor at the Economist Intelligence Unit, who adds: "We believe that the fraying of the relationship between the west and Russia is two-way: not only will European countries look for other sources of hydrocarbons, but Russia has also been engaging more with Asian markets. The Russian economy is not sufficiently strong at the moment to cope with a huge decline in export revenue, so policymakers will view maintaining shipments as essential."
Rosneft will also proceed with large scale investments on the domestic front. Today, Rosneft announced that it had started field work in the Kara Sea in the Arctic Ocean, north of Siberia. It expects to begin exploratory drilling in August and is currently proceeding with plans to do so with Exxon Mobil.
"It's important for Rosneft to maintain those relations with its partners because it's beneficial for the company. The foreign partners take two-thirds of the exploration costs for example in the Arctic area. Rosneft uses the technology skills provided by foreign partners, without that it would be really hard to imagine Rosneft going forward," Alexander Kornilov, senior oil and gas analyst at Alfa Bank in Moscow told IBTimes UK.
However, the recent escalation in tensions following the suspected involvement of Russian-armed rebels in Ukraine of the Malaysian Airlines flight MH17 has complicated issues.
"We gave this major American company [Exxon] the opportunity to work on the shelf [in the Kara Sea]. So, what, the United States does not want it to work there now?" Vladimir Putin is quoted as saying in the FT.
The relationship could become murkier still.
On 24 July, the EU issued further sanctions against individuals and businesses close to the Kremlin, but is said to be mulling wider-reaching embargoes which would strike to the core of the Russian economy.
A document leaked earlier this week showed that the EU was considering closing off capital markets from Russian banks and companies which are majority state-owned.
Already, Russian firms are expected to face difficulties in refinancing debt facilities which are due to mature over the coming years. According to a report by Moody's Investors Service released this week, Rosneft has $112bn in debt due to mature over the next four years, with the bulk expiring next year.
If it is barred from raising debt on the European markets, it would find it near impossible to replace the facilities. Russian domestic banks also visit European markets to raise debt. Should they also be banned from doing so, the likes of Rosneft would find itself in a double bind.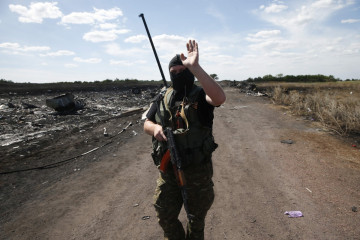 The Russian Ambassador to the UK Alexander Yakovenko yesterday told journalists that further sanctioning against his country would be "illegal, unreasonable and counter-productive".
This, however, is unlikely to deter the EU from extending sanctions further still, with pressure coming especially from a Dutch government which saw 193 of its people killed in the MH17 crash.
Kornilov says that Rosneft, for the time being, has enough project work within Russia to meet its capacity.
"There are several big chunks to the strategy within the country," he said, referring to investment in brownfield sites, the upgrade of the refining fleet, Arctic exploration and the development of new greenfield sites to replace the naturally declining older sites.
He said that the firm may also pursue "potential projects outside of Russia which could be driven by the geopolitical interests of Russia in general", such as the $270bn mega deal it signed with China last year for the export of crude oil.
Analysts are fairly sanguine, however, about the long-term stability of the oil markets.
Jakeman said: "From a global perspective, we do not expect any further US-EU sanctions to result in a long-term rise in oil prices. Oil markets are relatively well supplied at the moment, which limits the upward pressure on prices. Nonetheless, at times of high political risk, it is possible we could see rises of up to US$10/barrel, but having said that, the price has been pretty stable since MH17 crashed."
He goes on to say, however, that "can cause instant changes to commodity markets" while "the process of establishing new supply agreements, which can be slow and ponderous".
The situation is changing by the hour and while it may not be in anybody's interests to tear up the supply chain, Rosneft's chiefs need to be acting equally swiftly if the company is to ride out the storm.