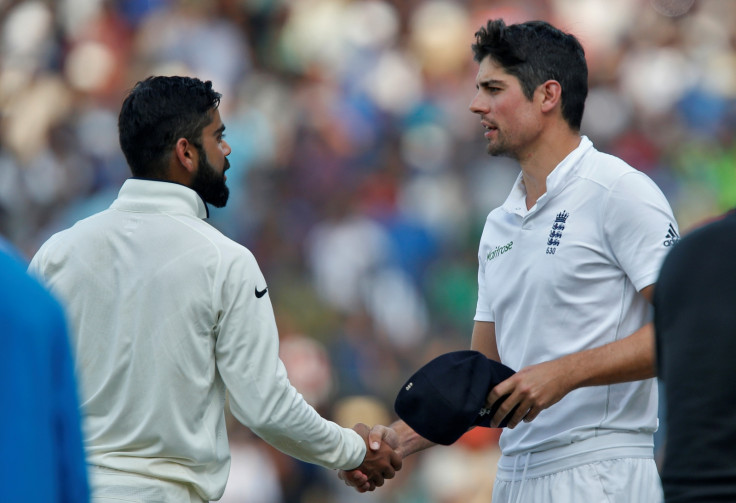 Alastair Cook will consider his future as England captain in the New Year after leading the country through the nadir of their Test cricket history. Defeat to India by an innings and 75 runs confirmed a 4-0 series loss and a record-equalling eighth Test reverse in 2016, leaving Cook on the brink.
The 31-year-old has refused to deliver a definitive answer on whether he will lead the nation beyond their harrowing tour of the sub-continent, which ended in embarrassing circumstances as they were bowled out for just 207 in their second innings in Chennai. Cook has captained England 59 times, more than any other player, but admits his future is far from certain.
"This is not the place to be standing here asking me these questions," Cook, who has tipped Joe Root to lead the team in the future, told Sky Sports. "I've got to go away and do some thinking, get back home and do it without the emotive side of what has happened over the last nine weeks."
Despite a lengthy tenure as leader of the England Test team, Cook has won just four of his last 12 series and lost five out of seven matches this winter. In India, the skipper has been continually criticised for his part in selection and field placings, while averaging 36.90 with the bat.
Cook will hold talks with ECB director of cricket Andrew Strauss and chief executive Tom Harrison next month to confirm his plans for the New Year, which includes series against South Africa and West Indies. England then defend the Ashes in Australia in 2016-17.
Assistant coach Paul Farbrace says Cook remains in England's plans next year and says the defeat to India will not lead to any knee-jerk decisions over his role. "We're working towards the Ashes and nothing has happened on this tour in terms of him being the right man to be captain," he said. "He is a very popular leader and everyone follows what he wants."
"The respect he has in the team speaks volumes for him as a bloke and a captain. Probably he will need a few days but Cooky will do what is right for the England team as he always has done. We hope he continues but ultimately it is his decision."